The Twin Mountains of Tam Sơn
After arriving in Tam Sơn on the first day of our tour around Ha Giang, and before settling into our homestay, we took a trip to a nearby village famed for its linen making. Along the way, we traveled through a valley of stunning beauty, past a pair of hills known as the Twin Mountains.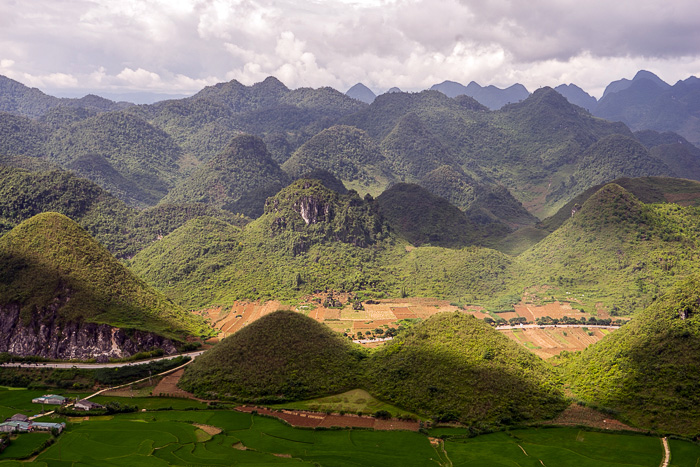 After parking our motorbikes, we ran up a hundred stairs to reach the viewpoint for the Twin Mountains. And I do mean "ran". This was a cloudy day, and although the sun was shining when we got off our bikes, it was clear that the light wouldn't last. Huffing and puffing, we just barely got our photos. Chu Chu was moving at a much more relaxed pace, and once he had joined us, he told us the legend of these small and perfectly symmetrical hills.
Long, long ago, a fairy fell in love with a human from the valley. They lived together and even started a family. But it didn't take long for the gods to find out about the affair. Furious, they demanded the fairy leave the realm of man. She worried about the nourishment of her children, so before leaving, she lopped off her breasts and placed them on the land. The magical fairy milk which runs through them has long been credited by the locals for the valley's lush vegetation.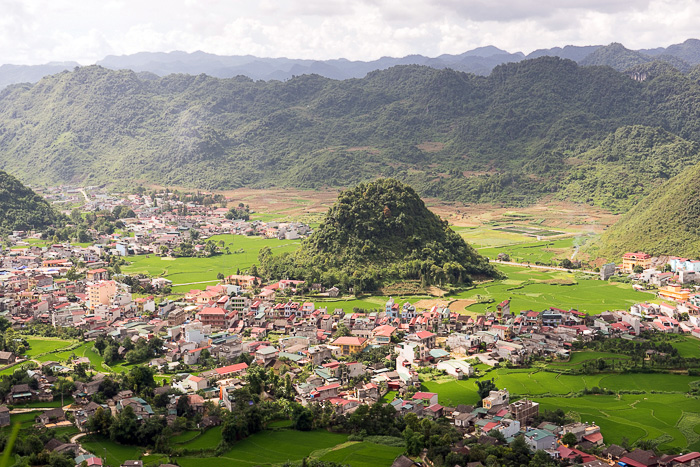 We returned to our bikes, and continued down the road to an even lower valley. After crossing a long hanging bridge, Chu Chu pulled over so that he could point back at the incredible scenery we'd just passed through. This, he told us, was the spot in which he would like to one day open a homestay of his own. We told him that if he ever does, to let us know. The chance to spend more time in a valley as picturesque as this might be enough to get us back to Vietnam.
–Learn Vietnamese, Instant 100 Words
Location of the Twin Mountains Viewpoint