The Ha Giang Loop … with Chu Chu
Our final adventure in Vietnam would be a four-day loop around the northern province of Ha Giang. This is one of the least-populated and least-visited areas in the country, so we thought it would be best to hire a guide. After doing a ton of research, we decided upon a Ha Giang local named Chu Chu … and we couldn't have made a better choice.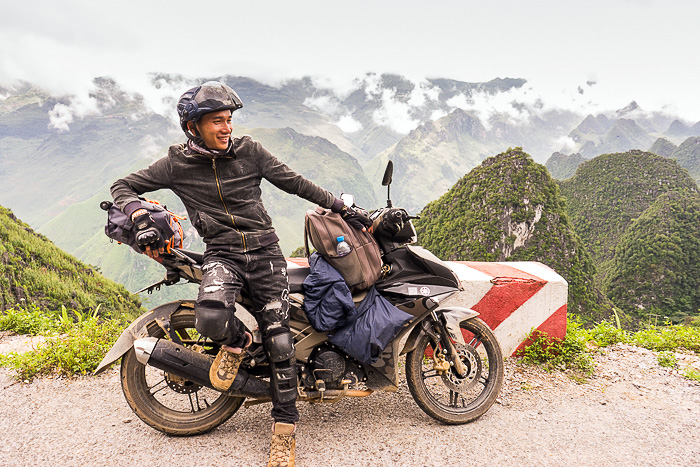 Chu Chu hails from a small village near Ha Giang, and his people are the Tày, one of Vietnam's many ethnic minorities. We hired him directly, without using an outside agency, so there wasn't a middleman from Hanoi taking a cut; the money we spent on the tour went straight to his family and village.
Chu Chu knew all about the people and villages which we'd be meeting during the course of our tour. Being a local himself, he knew how to deal with them in the correct way. If we saw traditionally-dressed kids, for example, and desperately wanted get their picture, he would leap into action… approaching them, making them laugh, then asking if it was okay for these two foreign guys to take a few shots. His presence put everyone at ease, and allowed us to get far more intimate photographs than would have been possible otherwise.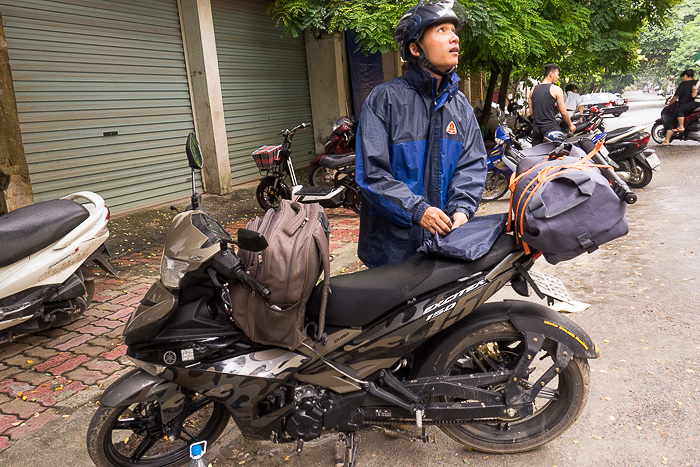 On top of everything else, he was an excellent driver. During our time in Vietnam, we'd hired enough other drivers to appreciate how rare that is. Chu Chu was safe and responsible, and took his time getting places. And he seemed to have an innate knack for anticipating our wishes. If we needed help, he was right there to lend a hand or answer questions. But if we wanted time to ourselves, we didn't have to tell him to hang back. It was the perfect balance.
Over the course of our four day tour, we got to know a lot about Chu Chu. When he's not running this tour, he works on his family's farm. He's 29, recently married, is the proud owner of an awesome 150cc motorbike. Occasionally, he'll hire his brother or cousins to assist with the tours, when he's been hired by bigger groups.
We're going to be publishing a lot of articles from the four days we spent with Chu Chu in Ha Giang, one of Vietnam's most awe-inspiring corners. This trip was one of the highlights of our entire time in the country, and without him as a guide, it wouldn't have been nearly as successful. If you're thinking about doing something similar, definitely think about hiring Chu Chu. Considering what you get, his price is an incredible deal, and includes everything: lodging, food, drink, and transportation.