Danang and the Dragon Bridge
Vietnam's third-largest city might also be its most unassuming. Found between Saigon and Hanoi, Danang has none of the charm of its big brothers. But that's not really the city's fault. Danang was a major theater during the American War, because of its strategic location, and was almost completely destroyed.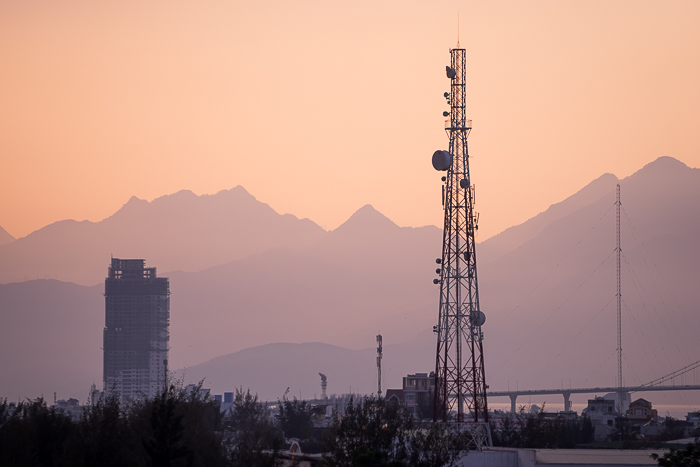 We spent a few nights in Danang, at a hotel near the beach. We had been told that although this was a pleasant city to visit, we shouldn't expect too much. And that's about what we found. The city itself is absolutely forgettable; wide, busy streets with interchangeable stores, chain restaurants, and very little character. But nice enough. We found the people here to be friendly, and enjoyed the time we spent here.
We also loved every meal we had, although this deserves a caveat, since we primarily ate at Korean restaurants. Danang, for whatever reason, is hugely popular with Koreans. The hotels bear names like "Koreana", restaurants serve bibimbap, and supermarkets stock soju. We returned multiple times to Yuk Hae Gong for dinner, where the prices were unreal and a steady stream of K-Pop kept the atmosphere bouncing.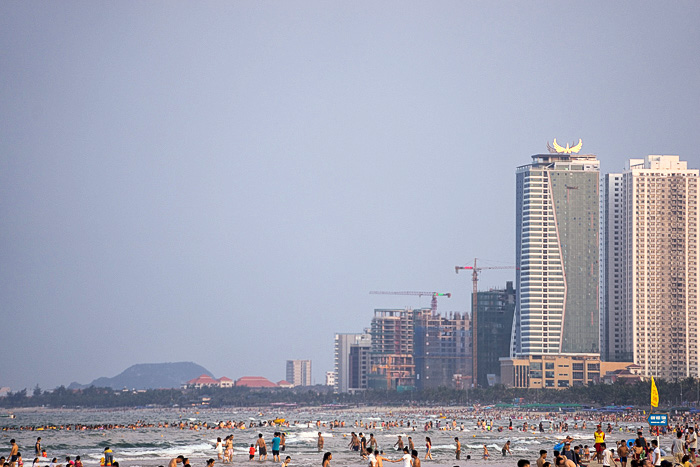 I imagine most of the Koreans come for the beach. If there's one thing that the war couldn't destroy, it's Danang's beautiful, crescent-shaped beach. We showed up shortly before sunset, and "splurged" on a comfortable chair and a beer (about $3.00 total, for two people). To the north, we saw the looming green bulk of the Son Tra Peninsula, punctuated by the massive figure of a female Bodhisattva; we'd be exploring this peninsula the next day.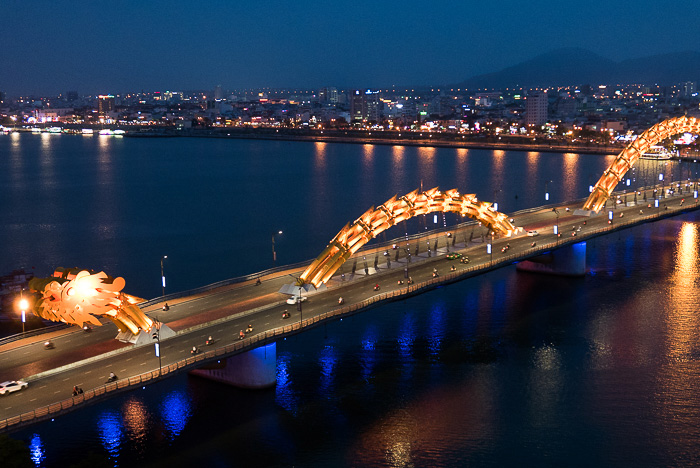 The most well-known work of architecture in Danang is its Dragon Bridge. Opened to traffic in 2013, this audacious bridge resembles a huge dragon, with its head pointed to the east. LED lights illuminate it in varying colors, and on weekend evenings, the dragon spits fire.
At first blush, it would be easy to be disappointed in Danang. It really isn't a very compelling city. But with the beach, the Marble Mountains to the south, the Son Tra Peninsula, the cheap Korean restaurants, the excellent Museum of Cham Sculpture, and that crazy Dragon Bridge, the city offers plenty for a few days of great sight-seeing. As long as you keep your expectations low, Danang is likely to surprise you.
–Don't Travel To Vietnam Without Health Insurance
Locations on our Map: Beach | Yuk Hae Gong | Dragon Bridge