Our First Day in Ha Giang
As soon as our four-day tour of the Ha Giang province began, we knew that the trip was going to be special. From far-flung villages and colorful local markets, to rice workers and buffalo boys, we saw so many amazing sights just on the first day, that it was almost overwhelming.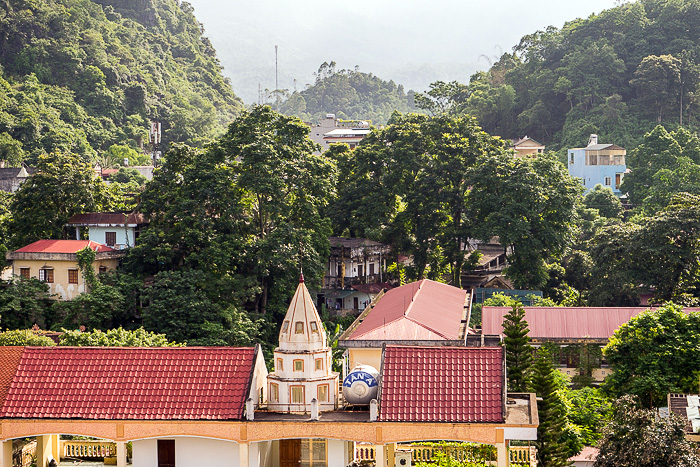 The bus from Hanoi to Ha Giang took eight hours, and we arrived in the evening. Our tour would be starting in the morning, and we were immediately sorry to have not scheduled more time in the town of Ha Giang itself. It's small and picturesque, surrounded by large hills and with almost no traffic. It would have been nice to have a full day here, to see the sights, recover from the bus ride and to acclimate to the northern environment.
But we were excited to get going. It was drizzling when Chu Chu, our guide for the trip, picked us up. We set off to the north, and within minutes encountered a foreigner on a motorbike, stuck in a ditch. We pulled over to help him, not yet realizing that "tourists in distress" would become a recurring theme of our tour. People underestimate the challenges of driving in Vietnam, especially during the rainy season, and every time we met another westerner with a crash-related injury, we were happier about our decision to hire a guide.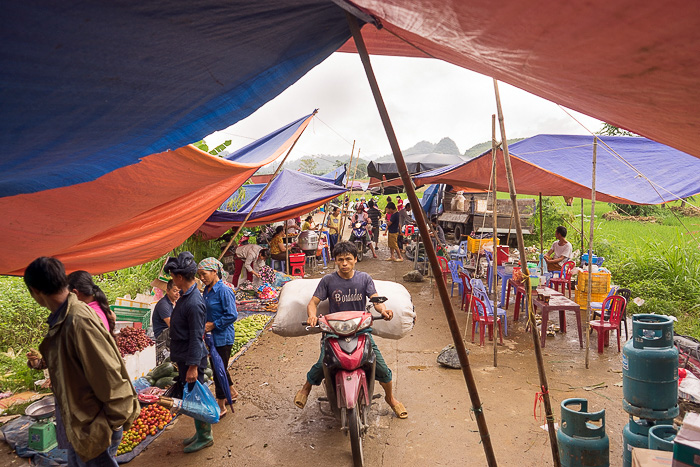 Our first destination was a weekly market held in the town of Quyết Tiến. The regular market area was closed for renovation, but this wasn't going to stop the people of the region's various ethnic minorities from selling their goods. Because the province's towns are so small and spread out, sellers have to take advantage of every opportunity.
Throughout our journey, it was difficult to say whether which we liked better: the various destinations, or the roads between them. We loved the silent hours watching the gorgeous, terraced landscape pass by. Occasionally, we'd stop to watch workers on the rice fields, or to meet some of the kids who Chu Chu referred to as "Buffalo Boys". Although I would have guessed them to be 7 or 8 years old, these were children in their early teens, whose job it was to attend the family water buffaloes. It's boring work, and to pass the time, they would hang out on the roadside to watch the traffic. They were curious about us, and we were able to talk a little, using Chu Chu as a translator.
Eventually, we arrived at our homestay in Quản Bạ, run by a family who belongs to the Dao ethnic group. We'd spent the night in other Vietnamese "homestays" which were more like hostels in spirit, but this one was the real deal. We met mom, dad and the kids, sat down for dinner with them in front of the TV, and really felt like a part of the family.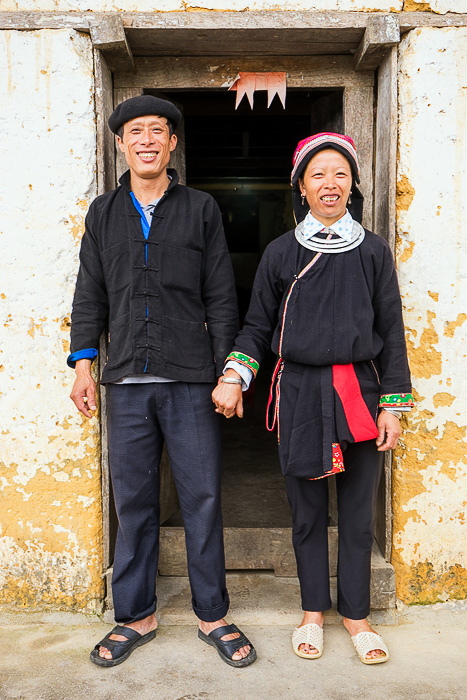 After dinner, we learned about their lives and culture over glasses of rice wine. Their marriage had been arranged twenty years ago by their parents; they hadn't even met each other before the wedding. But over the years, they had fallen in love with each other, and seemed just as happy as any other married couple. The Dao people have the curious habit of wearing berets, and we asked about this. They explained that during French rule, the only people allowed to wear berets had been French officers. Following their expulsion, the Dao asserted their new independence by claiming the hat as their own. The best political statements are fashion statements.
We were exhausted by the time we hit the cots, and we slept like babies. If every day turned out like this, our tour of Ha Giang was going to be unforgettable.
Locations on our Map: Ha Giang Town | Quyết Tiến | Homestay Quản Bạ
–Don't Travel To Vietnam Without Travel Insurance