The Linen Weaving Village of Lùng Tám
After having visited the Twin Mountains, our tour continued into Lùng Tám, one of the bigger towns in picturesque Quản Bạ valley region. This village of colorfully-attired H'mong people is dedicated to weaving and the fabrication of linen products.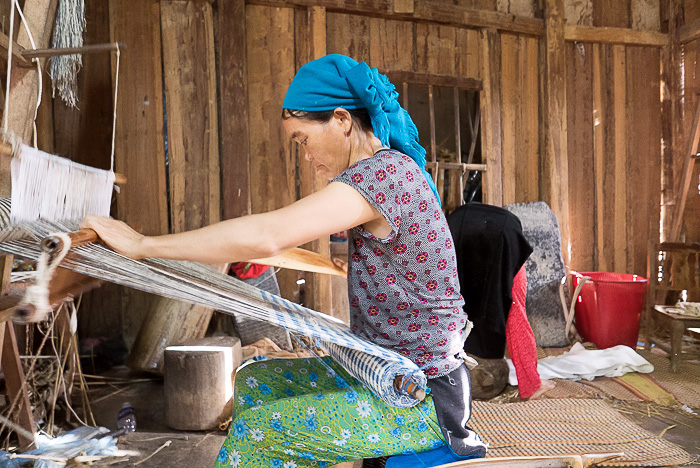 As soon as we arrived in Lùng Tám, we knew that this village takes its linen-making seriously. Almost every woman we saw was carrying a spool, spinning threads as she walked to the shop, or while sitting at the cafe with friends. We watched some continue spinning as they walked into their homes, and it was easy to imagine them working while they cooked, ate and watched TV. They probably go to bed with the spool in their hands.
The main source of employment in Lùng Tám is a city-wide co-operative, founded in 2000 to compete with cheaper products flowing in from China. Today, every single household in Lùng Tám is somehow involved in making linen. Chu Chu explained to us that, at the very least, every woman in Lùng Tám is obligated to make at least two dresses during her life: one for a wedding, and another for a funeral. These more significant dresses can take up to three months apiece.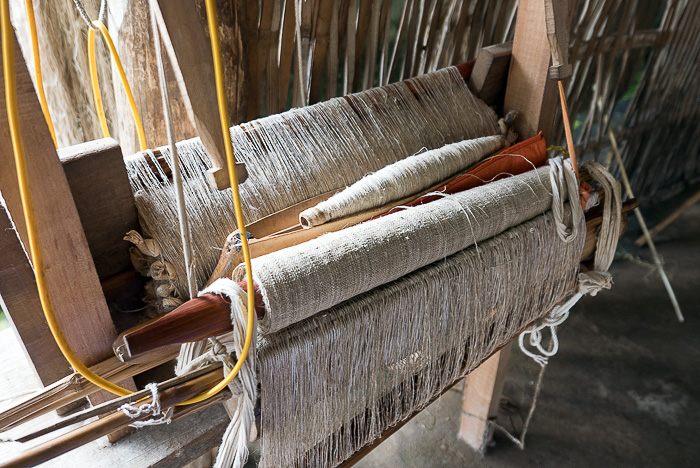 Linen was everywhere while we were walking around Lùng Tám: drying out in the sun, whirring on family looms and adorning the bodies of every man, woman and child. The durable fabric keeps the villagers warm during the bitter winters of Ha Giang, and one article of clothing can last for decades.
We came upon a shed, where we found two women working. The first was weaving threads, while the other was standing precariously atop a flat stone balanced upon a cylindrical stone, which she was rolling back and forth to soften the linen. I would probably break my neck if I tried this, but she was carrying on a conversation while she rolled, without showing the slightest bit of concern.
There's a shop in town, where visitors can buy some of the items produced by the co-op, including bags, shirts and tablecloths, with beautiful designs and colors. Knock-off Chinese products might be cheaper, but they just can't compete with authentic, hand-made items in terms of quality. So it's not a surprise that Lùng Tám's co-op has proven successful over the years. We loved our visit to this village; it's a different, more communal way of life than what we're used to, but it seems to be working out wonderfully for this vibrant mountain village.
–Apply For Your Vietnam Visa Letter Here