Danang's Sơn Trà Peninsula
A large and densely-forested peninsula jutting into the sea north of Danang, much of Sơn Trà is an officially-protected wildlife zone. Exploring the peninsula makes for an easy day trip from the city, provided you have your own motorbike. And if you keep your eyes peeled, you might just spot some of the peninsula's most famous residents: the endangered Red Shanked Doucs.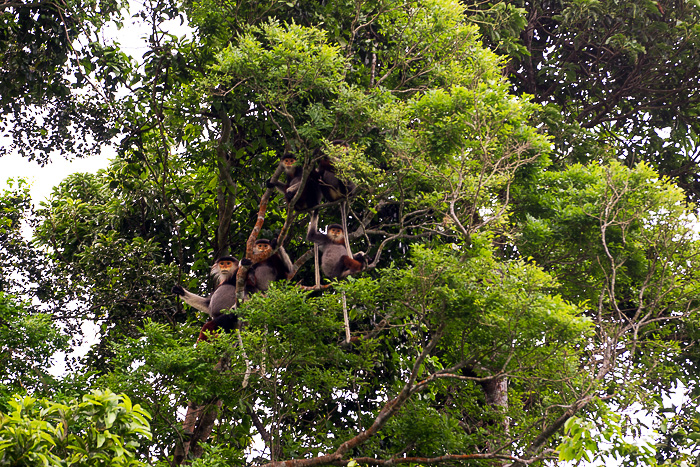 The most auspicious of Sơn Trà's sights (and its only crowded one) is the 67-meter tall statue of Avalokiteśvara, the Goddess of Mercy, of Chùa Linh Ứng. That's the biggest Avalokiteśvara in Asia, no lie! But even more impressive than the statue's height was the number of buses in the temple's parking lot. We were visiting Sơn Trà for jungle adventures and monkey spotting, not to join selfie-snappers in front of superlative statues of religious figures we've never heard of. We looked around for a few minutes, then got back on the road.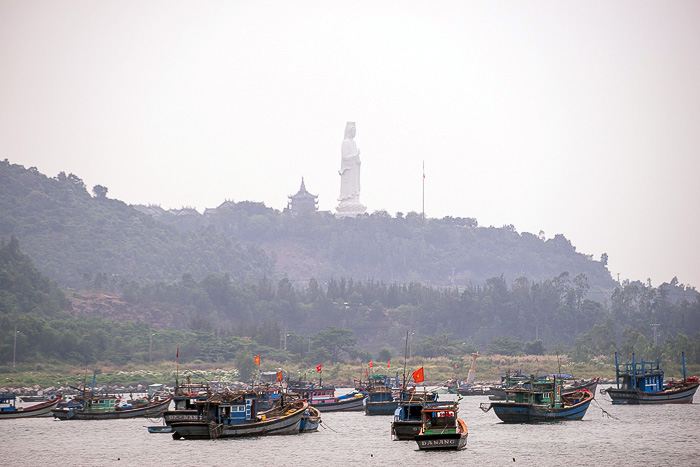 As soon as we were past the Linh Ứng, the crowds dispersed. Throughout the day, we'd see a few other motorbikes, but not many. We puttered out toward the peninsula's tip, stopping a couple times to marvel at the sounds of nature and the colorful foliage; autumn-like reds and yellows, despite the fact that this was early May. Soon, we had arrived at another of Sơn Trà's main attractions: an historic Banyan tree, used as a meeting point by the Viet Cong during the war.
Pressing on toward the end of the peninsula, we arrived at a small lighthouse, built by the French in the late 19th century. For a small fee, we could ascend for a view of the sea.
Returning inland, we now began the roughest ascent of the day, up a lane called Monkey Pass to the summit of Monkey Mountain. We arrived minutes before a huge cloud bank swept up and over the peninsula, so were able to enjoy a few minutes of beautiful views, then a dramatic landscape of clouds obscuring everything… and then we weren't able to see anything closer than a few meters.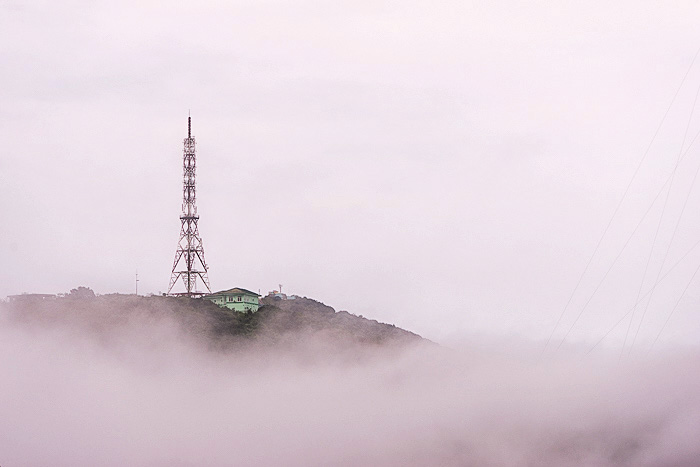 Beginning our descent down the mountain and our return to Danang, we were mildly disappointed to have not seen any monkeys; surely Monkey Pass to Monkey Mountain had been the best opportunity. But then, on the back side of the peninsula, we saw a Vietnamese guy with a massive camera taking pictures of a tree. We shut off our bike, joined him, and spotted a family of six Red-Shanked Doucs sitting on a branch, not too far from us.
Also known as the "Costumed Ape" due to its colorful appearance, the Red-Shanked Douc is endangered, its primary habitat having been defoliated with Agent Orange during the war. Sơn Trà is one of their few remaining refuges, and they're notoriously shy of humans… spotting one is considered very lucky. And we were in front of a family of six! They definitely saw us, but perhaps felt the distance was safe. In fact, they seemed curious. We stayed for a long time, actually until Jürgen's camera had run out of juice, watching them play, eat, and jump from branch to branch.
(We've marked the exact location in which we spotted the doucs on our map. Obviously, there's no guarantee they're always there, but it might be a good spot to start the hunt!)
Finding the family of Red-Shanked Doucs was the perfect conclusion to an excellent day out. We'd had high expectations for Sơn Trà, and the peninsula turned out to be every bit as exciting as we had hoped. Given its proximity to Danang, it's hard to imagine an easier place to experience Vietnam's wild side.
Locations: Linh Ứng Temple | Banyan Tree | Lighthouse | Monkey Mountain Summit | Monkey Spotting
Sơn Trà Peninsula Photos