The Pù Luông Nature Reserve
After a few days in the Phong Nha National Park, we were happy to stay focused on Vietnam's nature, and relocated to another park: Pù Luông. Just like Phong Nha, this is an exceptionally beautiful area. But unlike its more famous brother, Pù Luông is still largely untouched by tourism. We spent two days exploring the region, and never once saw another foreigner.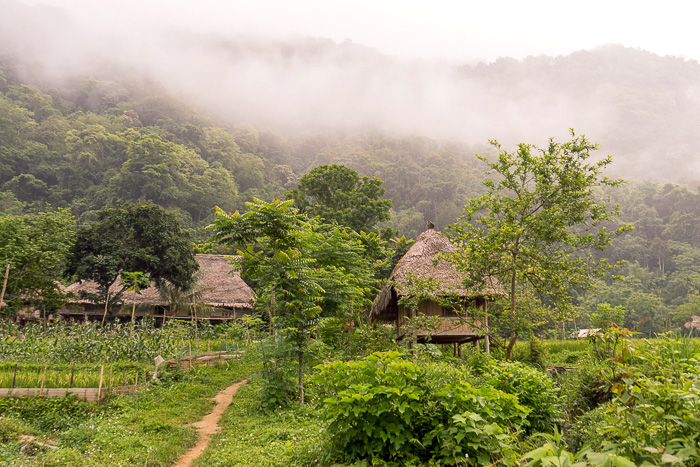 Established as a protected reserve in 1999, Pù Luông is over 40,000 acres in area, and comprised of a long valley squished between a twin set of mountains. A huge variety of flora and fauna can be found within the park, including the Asian Black Bear, the sika deer and the serow, a strange goat-antelope hybrid creature I'd never heard of.
There are humans in Pù Luông as well, though none from our particular tribe. Pù Luông has managed to stay totally off the tourist radar, which came as a welcome relief after the overcrowded Phong Nha. The likeliest reason for its low profile is geographic isolation. Ninh Binh and Thanh Hoa are the nearest cities, and neither could be considered "close". We rented motorbikes from Ninh Binh, and needed seven full hours to arrive.
Seven hours on a motorbike is no joke, but once we had settled into our homestay, we knew that the effort had been worthwhile. The beauty of Pù Luông almost defies description, and we were visiting at just the right time, during the rice harvest, when the terraced fields were at their deepest green, and the communities at their most active.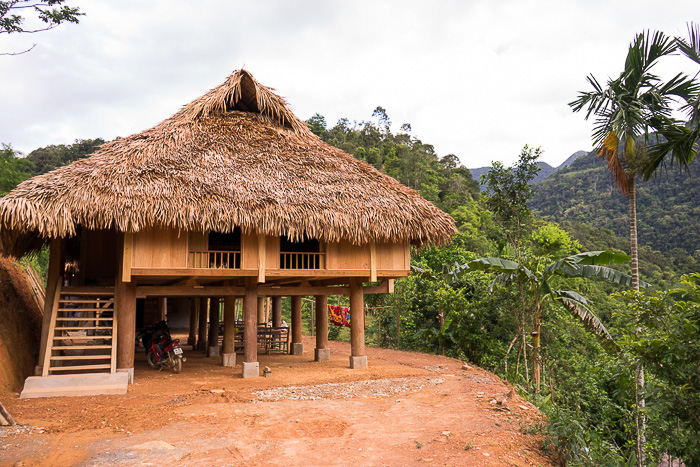 We had booked two nights in Mr. Dũng's Homestay, in the village of Bản Hiêu. The process of finding this place was not simple. It's not marked on any map, and no signs point the way. Mr. Dũng has a phone number, but we knew that he spoke no English (a Vietnamese friend had made our reservation). In fact, nobody in Pù Luông that we encountered during the entire weekend spoke any English. Hunting for his place, we hiked up a hill too steep for our motorbike, and then had to hike back down after someone had indicated that Mr. Dũng's was on the next hill. After an hour of searching, we finally managed to find it.
With most of our first day already consumed by the journey, we were content to hang around Bản Hiêu for the rest of the afternoon. After getting situated in our homestay, we embarked on a wonderful two-kilometer hike around the area. Leaving from Mr. Dũng's, we first scaled a steep hill, at the top of which we rested for a long time, taking in the unbelievable landscape. While resting, we were passed by an older, barefoot woman chewing betel, with a basket of leaves strapped around her forehead.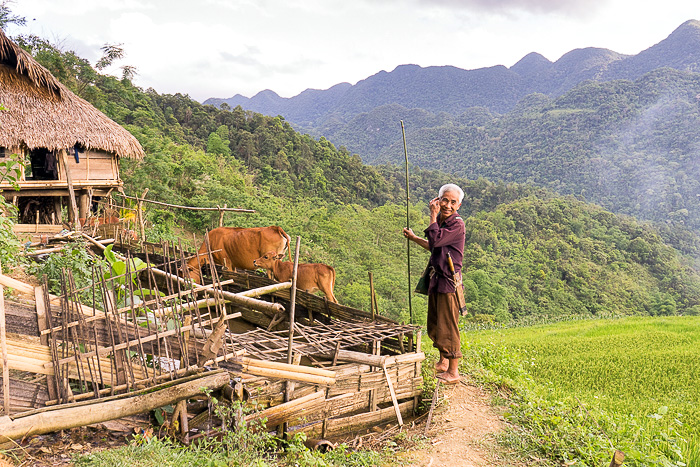 Could it get more authentic or cute? Actually, yes! Minutes later, we encountered a farmer urging his cows into their pens. He was so excited to see us, he couldn't stop shaking our hands or smiling, and the cows took full advantage of his distraction to munch on the family's garden. After giving them a good thrashing, he waved us through his house, the bottom floor of which was more like a barn, while the top floor was the living area, filled with curious kids. Before we continued down the path, he insisted on giving me a hug.
We continued through the upper section of "town", which was really just a loose collection of maybe a dozen houses. Everyone waved at us and everyone was smiling, from the dudes repairing a barn, to the elderly ladies working in the rice fields. I hesitate to continue describing the people of Bản Hiêu, as it might come off patronizing, but they seemed genuinely happy. Maybe there's something about satisfying physical labor in a pristine natural environment…
As we descended the hill, heading back toward our homestay, we had to cross the river which provides the town with its water. The river cascades down in a powerful waterfall which, just like the rice fields, is terraced, resulting in a number of pools. Some locals were swimming and after the walk, we couldn't resist stripping down and joining them. I can't imagine a more perfect conclusion to such a lovely hike.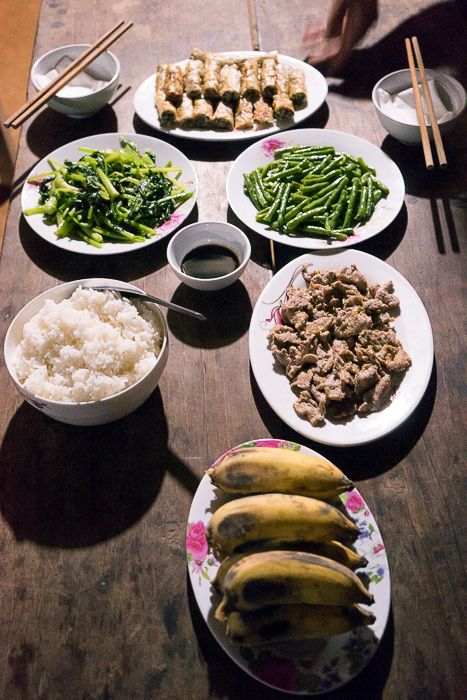 We returned to Mr. Dũng's just in time for dinner; a delicious feast of rice, pork and spring rolls which we greedily devoured. This homestay was exactly what we had been hoping for, rustic but comfortable, with a super-friendly family. And hot showers! We crawled into bed early… once the sun goes down, there's not a lot you can do in Bản Hiêu. We're certainly not accustomed to going to bed at 8pm, but here it felt natural. We were easily tired enough, and eager to get an early start the next day.
–Apply For Your Vietnam Visa Here
Mr. Dũng's Phone Number: +84 (0)944935025 (Warning: He does not speak English!)