The Vân Long Nature Reserve
Located about 30 minutes north of Ninh Binh, the Vân Long Nature Reserve protects one of Northern Vietnam's largest unspoiled natural areas. Visitors can take a boat tour to see a small section of the park, and possibly spot the elusive, endangered Delacour's Langurs which call it home.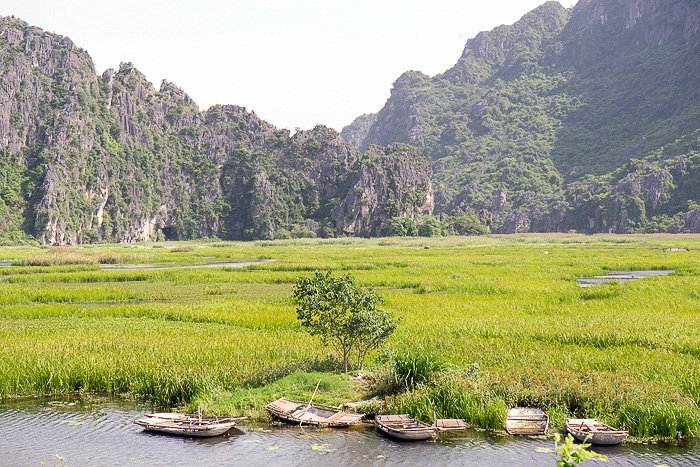 "A slow boat ride through a stunning landscape of limestone hills…" Wait, haven't we done that already? It sounds just like Tam Cốc, to the south of Ninh Binh. But the experiences couldn't be more different. At Tam Cốc, we were depressed by the sheer number of other tourists, and driven to the point of rage by the money-grubbing ways of our boat operator. But we were almost entirely alone in Vân Long, and our captain was great. Tam Cốc's scenery might be more memorable, but we had a much better time at Vân Long.
The boat tour lasts about an hour, and it's really the only thing you can do in the park. Vân Long is not a place you could explore at will; it's mostly underwater, so a boat is necessary. Our captain steered us past towering hills, through a cave, and into some forested pockets where the only audible sounds were those of birds. He made green hats for us from lily pads, and pointed out some of the animals who call the park home. We saw swarms of butterflies mating and hawks diving into the water, and kept our eyes peeled for monkeys.
The Delacour's Langur is classified as critically endangered, and Vân Long is the only place in the world which maintains a viable population. They're black with a white butt, and although they spend most of their time sleeping, it's apparently easy to spot them in the park. Our guide was confident he'd find some for us, but we were visiting at midday, and the langurs remained out-of-sight.
In addition to the langurs, the park is home to over a hundred types of birds, which can best be seen in the early morning or in the evening, when large flocks soar over the water in search of food. Dusk or dawn is definitely the right time to visit the park, and not around noon like we did. But we still had an excellent time, and were sorry when our tour came to an end.
On the way back to Ninh Binh, we took a detour through Kênh Gà, which is known as a "floating village". Sounded interesting, but this was a disappointment. Kênh Gà might have been floating in the past, but today, the houses are firmly on dry land — I don't begrudge the villagers their progress, but there's no longer any reason for tourists to stop by. We crossed a motorized bridge (which reminded us of the Queen Emma bridge in Willemstad, Curaçao), and were immediately accosted by locals still trying to wring dollars out of the few foreigners who end up here. As fast as we could, we hurried out of town.
–Our Favorite Hotel In Ninh Binh
Locations: Vân Long Nature Reserve | Kênh Gà (Not-So) Floating Village
Vân Long Nature Reserve Photos