Ha Long Bay on the Cheap: Bài Thơ Mountain
If you'd like to see Ha Long Bay, but you don't want to spend cash on a tour… or maybe you're afraid of the water… it's possible to get an incredible view, without ever stepping foot on a boat. Climb to the top of Núi Bài Thơ (Poetry Mountain), to see the unique formations of Ha Long from above.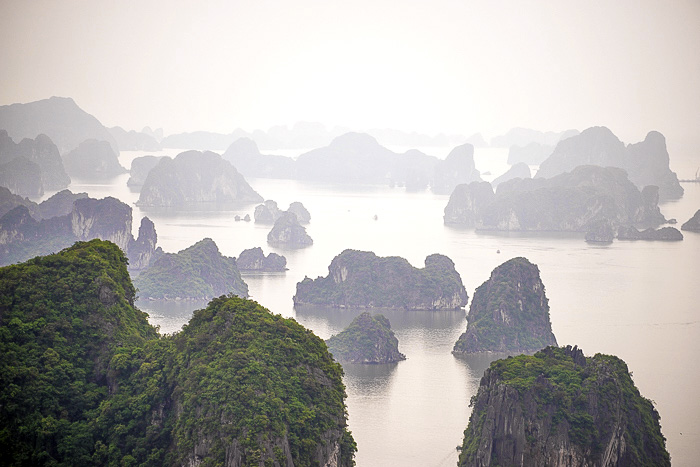 The path up the mountain is hidden down a tiny alley on Hàng Nồi Street. But it's not difficult to find, because as soon as you start to look lost, the locals will point you in the right direction. Apparently, there's only one reason for any tourist to be on Hàng Nồi. We squeezed between the houses and followed the narrow alley until reaching a gate, where a woman was waiting to collect a small entrance fee.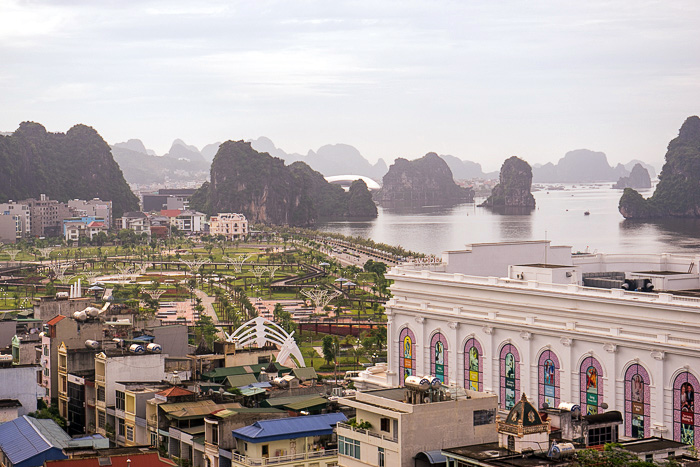 The trail leading to the summit of Bài Thơ is straightforward, but unrelenting. We needed about 40 minutes to climb the whole thing, including some breaks to gasp for breath in the humid air. The journey, though, is worthwile. The view of Ha Long Bay is incredible from Poetry Mountain… this is just another of the limestone mountains which populate the bay, except it's larger and partly on land.
The mountain's name is really no surprise; the view from its summit must have inspired legions of poets and artists over the centuries. But there is a specific poem to which the name refers, etched onto the stone in 1468 by the King Lê Thánh Tông. Apparently, you can still see his etchings on the mountainside, although they're so worn away as to be unreadable.
–Stay Over Night In Ha Long Bay City
Approximate Location of the Trailhead