A Hike in the Phong Nha National Park
We spent four nights in the Phong Nha National Park, which is home to more than 300 caves including, incredibly, two of the world's three largest. On our first full day in the park, we embarked on a long hike through the forest to visit two of the regular-sized caves, one of which we'd be swimming through.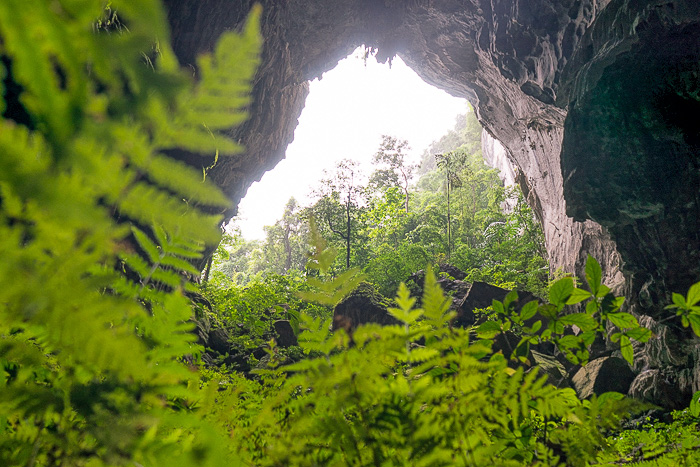 Having visited the cities of Hoi An, Danang and Hue, one right after the other, we needed to reconnect with nature, and were really looking forward to Phong Nha. A three-hour train ride from Hue brought us to the town of Dong Hoi, where we hired a driver to complete the journey. There is a bus connecting Dong Hoi to Phong Nha, but it takes at least 90 minutes, and while a private driver is more expensive, the trip is comfortable, air-conditioned, and takes a third of the time. We found another couple headed to Phong Nha, and managed to haggle the price down to Đ350,000; split between four, it was definitely worth the money.
Our driver dropped us off a couple kilometers past the main town at Jungle Boss. We had been hoping for a nature cleanse, and couldn't have made a better pick than this homestay. Far off the main road, the evening soundtrack is provided by a cacophony of frogs, crickets, water buffaloes and birds. And the folks who run the place are young, friendly and fun.
We arose early on our first morning for a hike organized by Jungle Boss, into the forests of the Phong Nha National Park. It was a rainy day, which was both good and bad. The bad, obviously, was the rain, which made every step treacherous. But it had the unexpected benefit of causing the other groups on our tour to cancel, leaving us alone with our guide, Bien. So, there was nobody to watch us stumble and fall, except the guy getting paid to.
And we'd be doing quite a bit of falling during the day, especially during the steep initial ascent to Elephant Cave. The rocks were dangerously slick, and more than once we slid backwards, grabbing onto a branch for dear life. I don't know why I expected hiking in Vietnam to be easier, but this was tough. We're not exactly super-fit, but neither are we total slouches, and this hike was toward the upper limit of our capabilities.
It's a good time to mention, that hiking in Phong Nha is not something you'd want to be doing on your own. The trails are far too difficult to follow. The trailheads are unmarked and obscure, probably by design, and getting lost would be a serious danger. We always prefer hiking on our own when possible, but would absolutely recommend against it in Phong Nha.
So it was a rough slog, but we eventually made it to the Elephant Cave, so named because it was once used by local villagers to trap elephants. This cave was also used as a refuge by the Viet Cong during the war, and you can see the trails, steps and platforms they constructed. We walked all the way through the cave, to another opening on the far side, spooking dozens of bats and marveling at the enormous stalagmites; this cave is millions of years old, and many of the formations are correspondingly impressive.
Bats weren't the only animals we'd see during our hike. We also spotted a few monkeys in a far-off tree. And then there were the leeches. The rain had brought the little blood-suckers out in droves, and we had to constantly flick them from our legs, or yank the ones who'd been able to secure a grip. At the end of the day, the Leech Count was Jürgen 5, Mike 3, Bien 0. We're still not sure how he managed that, and suspect there's some local Vietnamese trick he hadn't shared with us.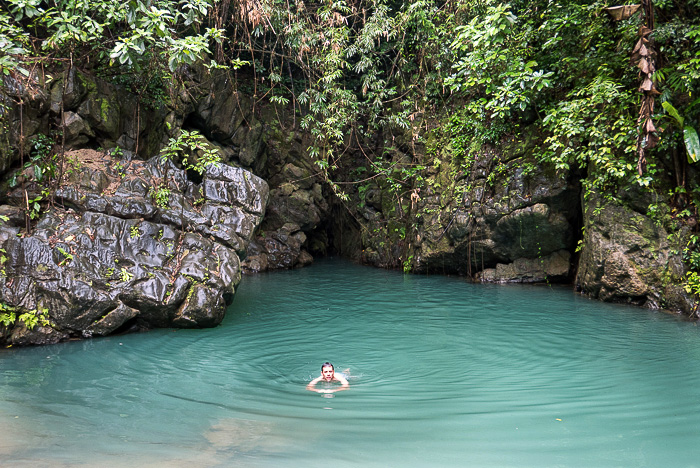 The leeches had disappeared by the time we were ready for lunch. A second guide from Jungle Boss had run ahead of us on the path to set things up. While we took a short swim in the river, he finished preparing a huge meal of grilled pork and tofu, which we rolled up in rice paper, with green leaves and cucumber. It was apparent that this was supposed to be a bigger tour, because the amount of food was ridiculous. We had been starving, but weren't even make a dent in the pile.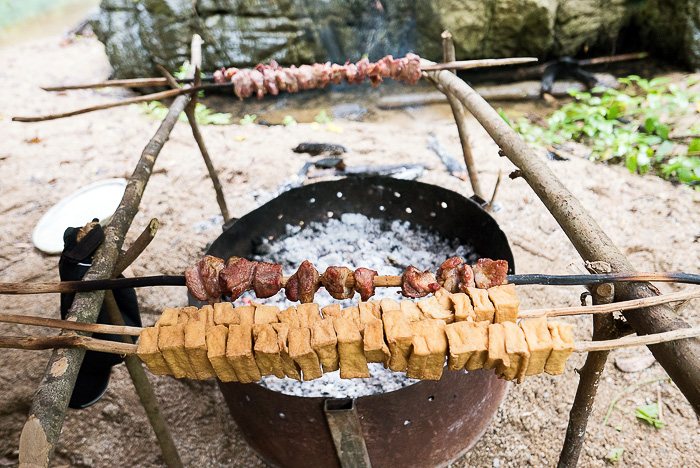 Our next stop was the partially-submerged cave in the Ma Da Valley, where we'd be swimming into the darkness. That sounded so exciting, that we almost didn't mind the hour-long hike required to reach it. Actually, this was the easiest section of the day; no leeches, few hills, and even the rain had paused for a spell. We stripped down, put on life-vests and helmets with lights, and swam into the cave. Once we had gone far enough, we switched our lights off, immersing ourselves in total darkness. On the return, we allowed the current to carry us back toward the mouth, watching in stunned silence as the cave's walls and stalactites became ever more illuminated.
An eight-kilometer hike might not sound too challenging, but by the time we got back to the car, we were done. We slugged down the best-tasting beer I've ever had, and then got on the road back to our homestay. This had been an amazing day out, and quite an introduction to Phong Nha.
–Buy Hiking Gear Before You Go
Location of Jungle Boss Homestay