Văn Chương, West of the Train Station
The majority of visitors to Hanoi probably have no idea how large it actually is, because they never leave its core of Hoan Kiem Lake and the Old Quarter. Tourism goes from critical inside this sphere, to practically non-existent just outside it. By any reckoning, a neighborhood like Văn Chương should at least have some foreign visitors, even if it's just those who have gotten lost. From a map, it's still in the dead center of Hanoi! But nope. We didn't see a single one, despite spending an entire day here.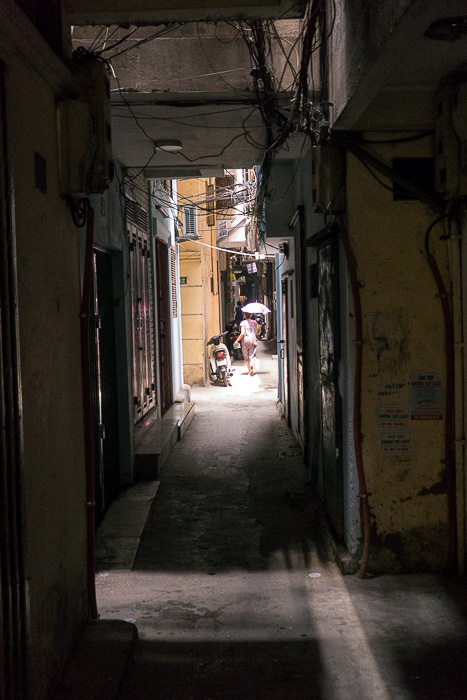 But we're not complaining. During our time in Hanoi, we've learned that the atmosphere in quieter neighborhoods is radically different than within tourist zones. And here was one such neighborhood, literally steps away from the train station. As soon as we ducked into Văn Chương's tiny alleys, we felt a weight lifted; nobody hawking tours at us, nobody clamoring for our business. No, this was the kind of regular Vietnamese life which we'd fallen in love with while in Saigon, and which we had been missing in Hanoi.
Of course, the biggest reason for the lack of tourists to Văn Chương, is that there's nothing particularly well-known to draw them here. No famous museums or historic temples. But that hardly means there's nothing to see. We were immediately won over by the neighborhood's darkened alleys, narrow enough that you could span them by extending your arms. Within seconds of entering Văn Chương, we were hopelessly lost.
Eventually we emerged onto Ngõ Văn Chương, which is the closest thing to a "main street" in Văn Chương, although nothing larger than a motorbike would be able to navigate it. We were led into one completely nondescript building by the sounds of whirring and smell of food… it turned out to be a small factory cranking out rice noodles. The workers (were they a family?) seemed amused by our curiosity, and had no problem with us wandering around for pictures.
Continuing our exploration, we ducked into a couple small temples, and soon came upon Văn Chương Lake. A road packed with cafes and bars circumscribes this small, algae-filled pond, and it seems a popular place for locals to while away the afternoon hours. I wouldn't want to swim or fish in the water, but the suddenness with which the lake appeared, and its sense of being simultaneously hidden and popular appealed to us.
After grabbing an excellent vegetarian lunch for about $1 apiece at a restaurant called Au Lac, we decided to head back toward the train station, and out of Văn Chương. But along the way, we discovered one last surprise. A sign pointed down an alley for the intriguingly-named "Industrial Cafe". However, this alley had a security guard, and he didn't want to let us pass. We've encountered this a few other times in Hanoi; I don't know if there are government buildings, or certain neighborhoods simply don't want tourists. But this time, after explaining that our destination was the Industrial Cafe, he begrudgingly let us pass.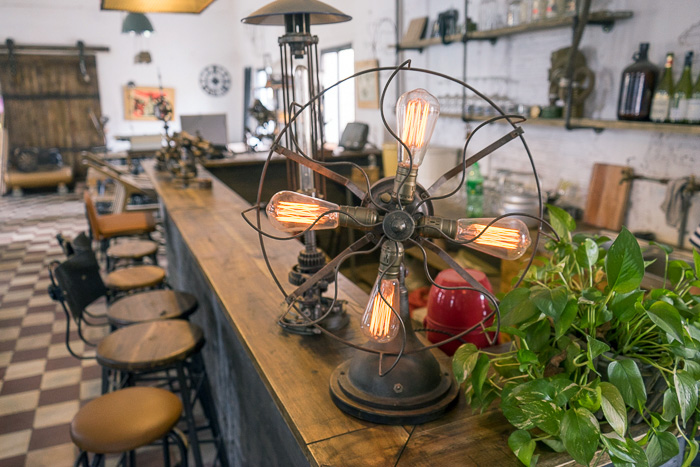 The cafe was just as cool as its name suggested. This was more of a steampunk-inspired home furnishings workshop, than an actual cafe. It's the base of a few local artists who focus on practical design, creating beautiful lamps, chairs and other furniture from recycled metals and materials. In fact, the "cafe" wasn't even really open for business yet… but they served us some powdered coffee for free, and told us about their project.
Despite not having any famous sights, or perhaps because of that, Văn Chương provided us with an excellent day out, and there's no way we discovered everything it has to offer. If you're looking for an interesting local experience away from the tourist hordes, keep it in mind.
–Our Photography As Framed Art
Locations on our Map: Rice Paper Factory (approximate) | Văn Chương Lake | Au Lac Vegetarian | Industrial Cafe