Here's the Thing About Eating Dog in Vietnam…
WARNING: This article contains an image of a dead, cooked dog. Don't scroll down if you want to avoid seeing this.
Before arriving, we'd read a lot about the Vietnamese penchant for chowing down on "man's best friend". However, during our three months in Saigon, we hadn't seen a single plate of dog being offered anywhere, and decided the stories were exaggerated. But it turns out that, in the north, they do eat dog. And it's not exactly uncommon.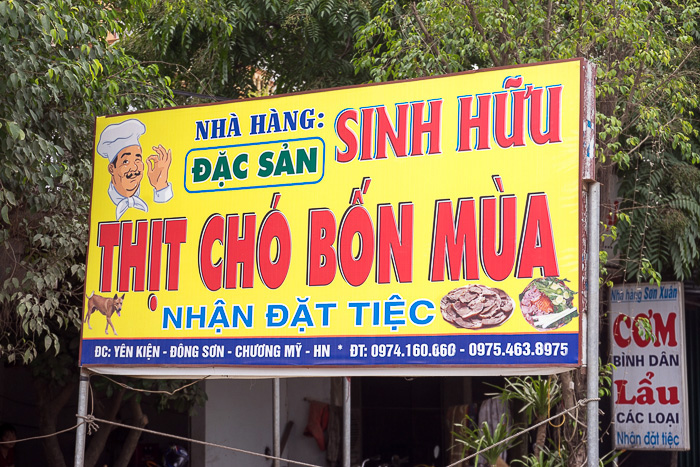 We didn't have to wait long, before encountering dog meat in Hanoi. In fact, there was a stand directly across from our hotel. The very first thing we saw, on our very first morning in Hanoi, was this ghoulish dead dog on a spit, roasted golden brown, staring at us through its vacant eye sockets. Roasty was there every day to say "good morning", and by noon, half of his corpse would be missing. Eventually, we got used to it. We even learned to spot Roasty from afar, so that we could avert our eyes before getting too close.
As a concept, neither Jürgen nor I have any problem with eating dog. We're not vegetarians, and will happily scarf down cow meat, duck meat, chicken meat, rabbit meat, pig meat, and just about any other kind of animal. We've had whale meat and puffin meat, for crying out loud. We love baby cow meat, and recognize that humanity's decision to call it "veal" is just an attempt to soften its evil. Baby cow meat tastes so good, it really does, but they're awfully cute little guys. You can't tell me a baby cow is any less cute than a dog.
On a personal level, though, dog meat is something I have difficulty with. When you're raised with dogs, you learn to love them as companions. They're intelligent, trustworthy, full of unbounded love, and fiercely loyal. They become your friend, often your best friend, and the thought of eating one becomes so outrageous, it borders on maniacal. What kind of monster could do such a thing?! We've developed such close relationships with dogs, that eating them feels like cannibalism.
Obviously, though, it's not, and we refuse to judge the Vietnamese for eating dog. But there are plenty of other people who are happy to judge! We've seen a lot of horror stories pushed by foreign animal welfare groups, which are difficult to believe. One of the most widespread, is that evil Vietnamese vendors will trick Westerners into eating dog by passing it off as chicken. This is ridiculous on the face of it. Dog meat is much more expensive than chicken, because it's thought to have special health properties. No businessman in his right mind would disguise an expensive product as a cheap one. It's a transparent lie, designed to enrage.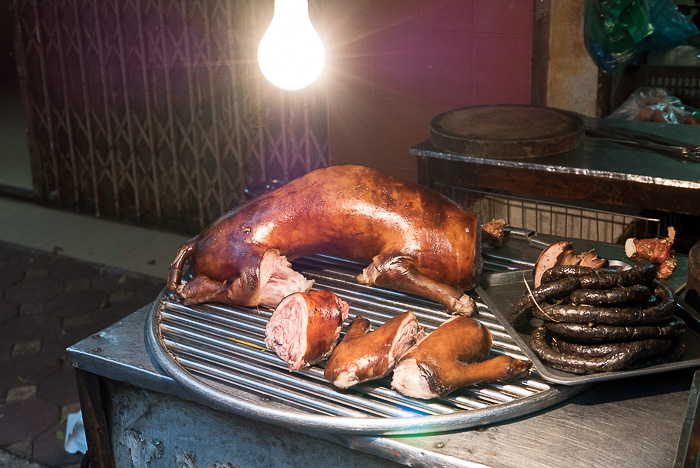 The truth is, the Vietnamese know how we feel about eating dog, and they're not keen to share this aspect of their culture. Once, we were looking for food in a small town west of Hanoi, and wandered into the first restaurant we found. The waiter leaped from his seat and shooed us out. "Rude," I thought, until I took a better look at the restaurant's sign, and saw the smiling dog in the corner. The waiter was really just trying to save everyone embarrassment, and I was happy he got rid of us, however brusquely.
At the end of the day, it's the differences in our cultures which make travelling so fascinating. And not every "difference" is going to be charming or easy to understand. Even if you're not going to try dog yourself, just being confronted with the possibility forces you to analyze and question your own beliefs. Why do I find this horrifying? Why aren't I horrified by the other things I eat? Am I wrong? Are they?
We believe the correct answer is that nobody is wrong. Given our culture, Westerners are "right" to be shocked by eating dog. Given theirs, the Vietnamese are "right" to consider it normal. Here's the deal: if you don't cram "Roasty" down my throat, I'm not going to cram my ethics down yours. We'll just agree to disagree on this one, and move along.