Snapshots from Hanoi's Old Quarter
The grid of streets found just north of Hoàn Kiếm Lake is Hanoi's Old Quarter. Once home to merchants and craft guilds, this section of town is now firmly in the hands of tourism. But if you can block out the thousands of travel agencies advertising Sapa Tours, and ignore the constant sales pitches of the cyclo drivers, it's possible to get a sense of how the Old Quarter must have felt in… well… the old days.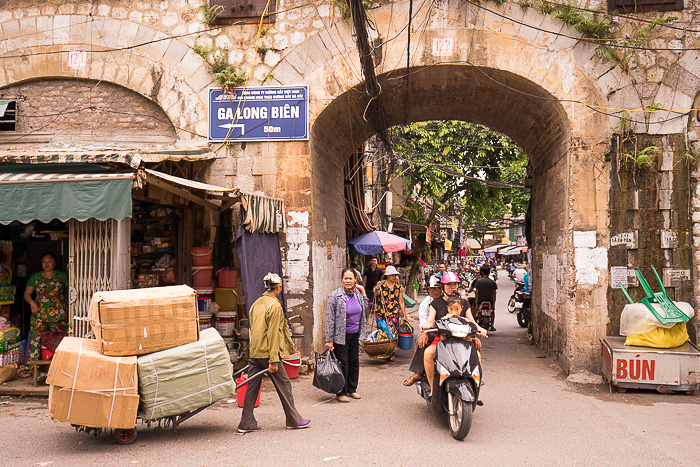 The 36 Streets
The Old Quarter is also known as the "36 Streets", each of which bears the name of the trade that was most prevalent here. There's Hàng Vải (Cloth Street), Hàng Trống (Drum Street), and Hàng Đồng (Bronze Street) among others. We stayed in a hotel on Hàng Bồ, or Bamboo Basket Street. Of course, the days of guilds are long ago, but you might notice some adherence to tradition. For instance, we spotted a shoe store right underneath the sign for Hàng Giấy (Shoe Street).
Tourism Central
For better or worse, the Old Quarter is tourism central in Hanoi, and very likely the only neighborhood which many visitors even bother to explore. The sheer number of tourists really affects the atmosphere, attracting the worst kind of money-grubbing locals. In order to keep our sanity, we invented a couple games to play while walking about the Old Quarter.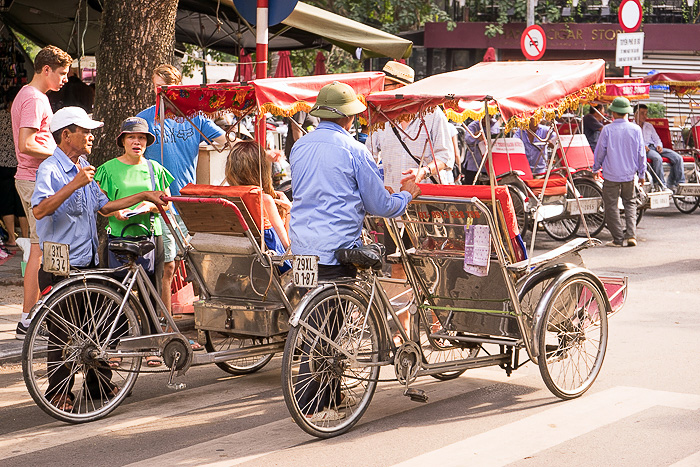 Cyclo Dodge! Walk a full block without a cyclo or motortaxi clamoring for your business.
Sapa Spot! When one person says "Sapa", the other must stop in place, and look around for the word Sapa. This is actually a challenge for the caller, rather than the spotter; it's nearly impossible to find a position in the Old Quarter from which no Sapa adverts are visible.
Enduring Charm
But there's a reason that so many tourists spend their time in the Old Quarter. It's possible to still find popular local restaurants, serving great food at normal prices. There are still genuine craft workers, and it's apparent that similar stores continue to group together. There's an entire lane, for example, specializing in party supplies, another in plumbing and electrical equipment, and another in bamboo ladders.
And although the Old Quarter is not as well-preserved as I'd hoped, the architecture is fascinating. Many colonial-period houses have survived, adjacent to newer, uglier apartment blocks. Exploring is definitely rewarded, as some hidden gems can be found on second floors, or tucked away in back courtyards.
At first, we were really let down by the Old Quarter. The neighborhood's negative aspects are so in-your-face, it can be hard to see past them. But the longer we spent wandering the streets, the more we enjoyed ourselves. The cyclo drivers became less annoying, we learned to recognize restaurants worth dodging, and were able to concentrate on the picturesque charm. And it turns out, charm is something the Old Quarter has in spades. Enjoy our pictures of this unique place in the world.
–Best prices for Vietnam Hotels
Hanoi's Old Quarter Photos And Two Videos