The Thấm Mã Pass and the Lũng Cú Flagpole
After having visited the Tam Sơn market on Sunday morning, we got back on our motorbikes and set off toward the north… to the very north. Today, Chu Chu would be taking us to Vietnam's border with China, marked by the Lũng Cú Flagpole. Along the way, we'd see some incredible scenery, especially at the Thấm Mã Pass.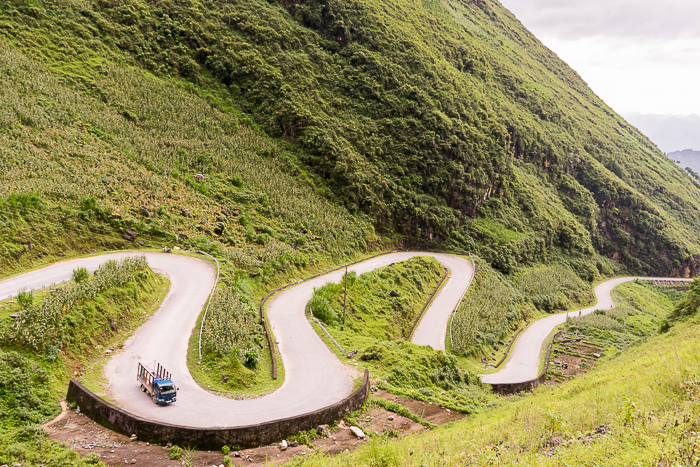 It was going to be a long day of driving, so we settled back and enjoyed the views. The great advantage to hiring a driver, and especially to hiring a driver as competent and careful as Chu Chu, is that you don't have to pay any attention to the road. After about two and a half hours, including a quick noodle lunch at a roadside stand, we came to the Thấm Mã Pass.
At Thấm Mã, the road snakes up through a narrow pass between two mountains. The hill is steep and it's slow going, but it provided an extra opportunity to check out the lush landscape of the narrow valley behind us. Unreal.
We got off our bikes and stretched out. It was later than we had planned, and Chu Chu asked if we wanted to continue on to the flagpole, or skip that part of the itinerary and go straight to our homestay. It'd be a lie to say we weren't tempted by the offer… but we'd never have another chance. If we wanted to see the Lũng Cú Flagpole, it was now or never. Let's push on.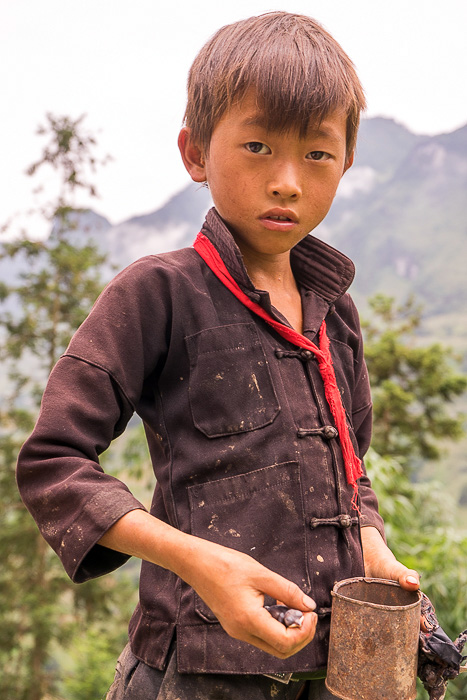 It took another two hours to arrive at Vietnam's northernmost point. Along the way, we saw the open, unpatrolled borders with China. The flag itself was visible from miles away; Vietnam is leaving no doubt as to where their land begins. We climbed to the top of the tower for a view over Vietnam to the south, and China to the north. The sun was setting over this extremely unpopulated region of the world, and the scene couldn't have been more lovely.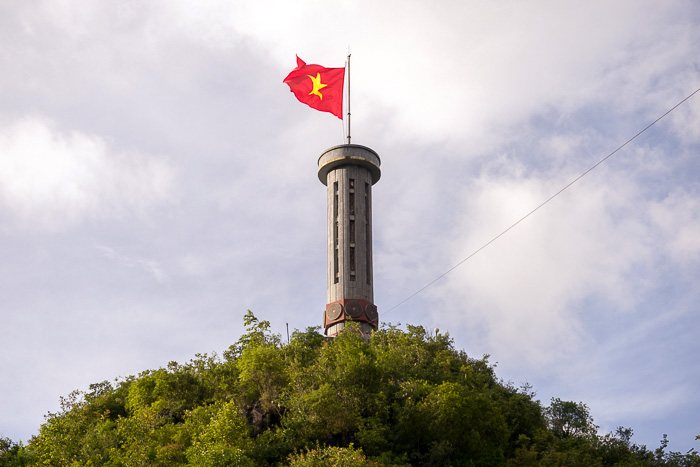 We were exhausted when we finally pulled into our homestay, and dismayed to find it fully occupied by a tour of British guys, already halfway on their journey to utter intoxication. No thanks. Chu Chu suggested that we relocate to a hotel in nearby Đồng Văn, and we immediately agreed. After the day we'd just had, we were all in need of a deep, peaceful sleep.
Locations on our Map: Thấm Mã Pass | Lũng Cú Flagpole