Founded by the French in 1907 as a retreat from the summer heat of Hanoi, the little town of Tam Đảo is found high in the hills, near a national park which shares its name. Today, it's a popular place for Hanoians to cool off and enjoy some nature. We decided to hop on a bus, and spend the night in town.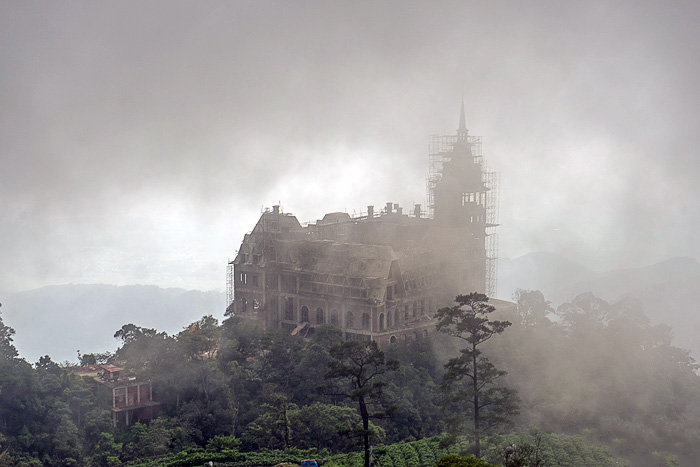 Tam Đảo reminded us of Dalat, in Vietnam's Central Highlands, and it has a similar history. Both were built as retreats by the French, who were unaccustomed to the tropical heat of their new colonial possession. Like Dalat, Tam Đảo boasts a lot of turn-of-the-century mansions, which have decayed over the years into works of unintentionally atmospheric beauty. There are also plenty of modern constructions, and large resorts catering to Hanoi's jet set.
We spent our first afternoon wandering around Tam Đảo, checking out the decrepit, haunting colonial mansions which are losing the slow battle against nature. Another relic from the days of the French is the massive stone church in the middle of town, which doesn't look like it's seen much action since their departure. We were visiting in July, and found Christmas decorations still hanging inside.
Tam Đảo is small, and our walk didn't take much time. But that's fine, since the point of a resort town is relaxation. From seats at the Quán Gió cafe, we had a view over the valley, and watched as fog rolled in over the terraced fields. On a hilltop across from the cafe is a storybook castle, which was still being built during our visit. Extremely impressive despite its half-completed state, it's safe to assume this will soon be the architectural highlight of the town.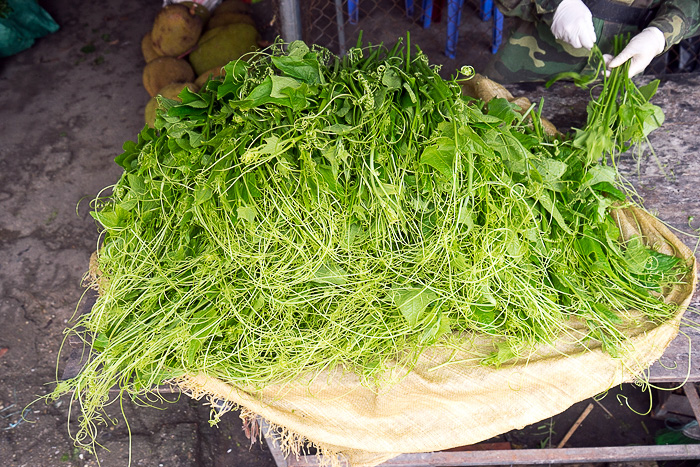 Tam Đảo is known for its su su, or chayote. The shoots of this plant are popular in Vietnamese cuisine, often stir-fried with garlic and served with beef. All over town, we saw merchant women on bicycles, with baskets full of su su shoots. Strangely, we didn't see the gourd-like plant itself being sold; it's edible, but apparently the Vietnamese are more interested in its shoots.
The next day, we'd be embarking on a hike through the hills of Tam Đảo, and checking out the waterfall that's hidden right downtown. It was a perfect two-day trip, and an easy excursion from Hanoi. The best way to get there is with public transportation; bus #39 from Hanoi's Mỹ Đình station takes about three hours, and costs Đ150,000 (about $6.60) which includes a transfer to your hotel in town.
–We stayed at the Anh Minh Hotel
Locations: Mỹ Đình Bus Station | Stone Church | Quán Gió Cafe