Located a few kilometers north of Tam Cốc, the mountainside complex of Bích Động consists of three temples arranged in a vertical order. A climb to the upper pagoda is rewarded by magnificent views over the region.
Bích Động was established in 1428 by two Buddhist monks from Ninh Binh, who recognized the area for its natural beauty. They built three pagodas at different heights on the mountain, making use of the limestone caves and recesses in the rock. The individual pagodas bear rather literal names: Hạ (Lower), Trung (Middle) and Thượng (Upper).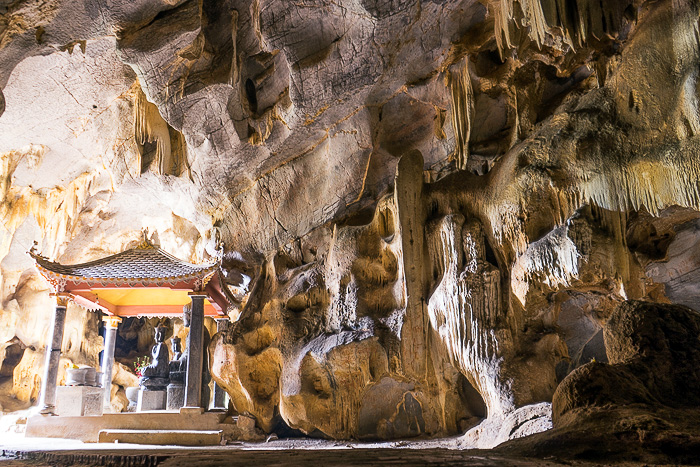 The visit starts, as might be expected, at the Lower Pagoda. After passing over a bridge and through a gate, you walk straight into the temple. Monks still live and worship here, and you're likely to spot a few while visiting. A prominent set of stairs leads up to the Middle Pagoda, which sticks halfway out of a cave.
If you didn't know about the existence of the Upper Pagoda, you might accidentally end your journey here, because the following flight of steps is totally hidden. You have to find a narrow passage on the side of the Middle Pagoda, walk deeper into the cave than any light can reach, and hunt around for the steps. Flashlights help! But from above, you'll enjoy a wonderful view over the karst hills of the Trang An landscape, which has itself been inscribed as a World Heritage Site by UNESCO.
Just like at most tourist-oriented spots around Ninh Binh, stay aware of schemers who have learned how to suck every last dollar out of gullible foreigners. After parking our bike at an official-looking spot, we were told that we have to buy tickets for the temple. This is untrue: the temple is absolutely free to visit. It's hard to blame people for trying to make a buck, but you'd think this blatant dishonesty in front of a holy site would give them pause…
–Travel Insurance For Vietnam Recommended