Caves, Kayaks and Dream Beaches: Our Second Day in Ha Long Bay
After a luxurious night of sleep in our cabin on the Dragon Legend, we woke ready for a day of adventure. On Day Two of our cruise, we'd be visiting two dream beaches, exploring a limestone cave, and kayaking around the hills of Ha Long Bay.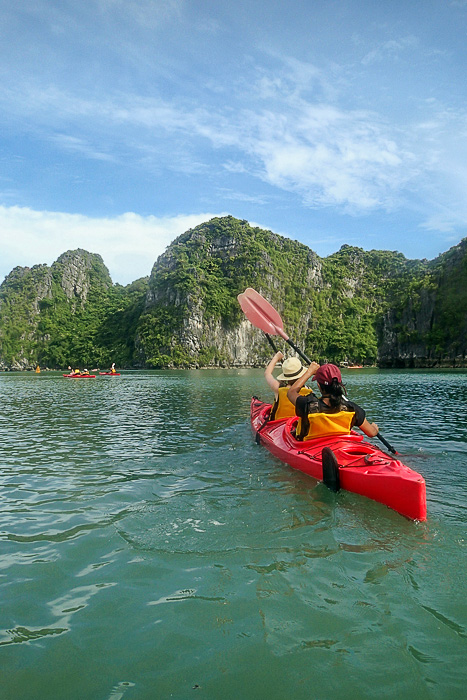 The first excursion was scheduled for immediately after breakfast; we piled into a jetty with the rest of the folks on our cruise (some of whom were already becoming friends), and set off for the beach upon which we'd be having lunch. We saw it from a distance, sand so white that it was almost sparkling. It didn't surprise us to learn that this beach was artificial, but neither did that fact bother us.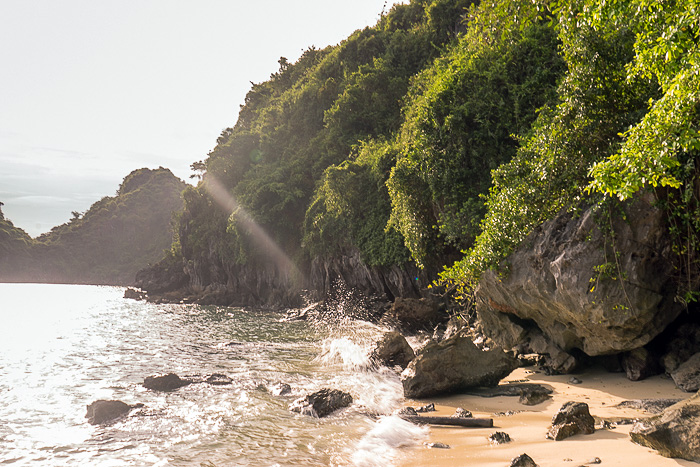 Before getting into the water, we scaled the hill to explore a small cave that's been carved out of the limestone. It wasn't exactly on the scale of the caves we'd seen in Phong Nha, but it was fun to be alone in this cave without any rules or supervision.
Lunch on the beach was fantastic: a seemingly endless parade of grilled meats and fish. As soon as I'd finished my chicken skewer, the shrimp would arrive. And the then beef, and then the calamari, and so on until I almost had to beg for mercy.
Stuffed from this feast, I was looking forward to a little exercise. After a quick nap on board the Dragon Legend, we took a kayak trip to a second amazing beach. Now, here's a piece of advice for anyone considering a relationship with a photographer: don't plan on taking kayak trips with them. They're going to be a lot more interested in photographing the scenery than helping you paddle. Upon arriving at the beach, I was soaked in sweat, and the memory card on Jürgen's camera was full.
When I'd reviewed the itinerary for our trip, I had worried that the second day might be too hectic. Part of the reason I had been looking forward to this cruise, was the chance to relax on board. Why else take a cruise, but to do nothing? However, the day was a lot of fun, and all the action made us feel as though we really deserved those evening beers on the deck.
–Book This Ha Long Bay Cruise Here
More from our cruise on Ha Long Bay: Aboard the Dragon Legend | The Fisher Village