Thank you, Uncle Ho: our hero! Leader of the struggle to free Vietnam from foreign influence! As a humble token of our gratitude, we honor you inside this mausoleum, where your corpse will be injected with embalming fluid and displayed eternally to generations of patriots … Uncle Ho? Why are you crying?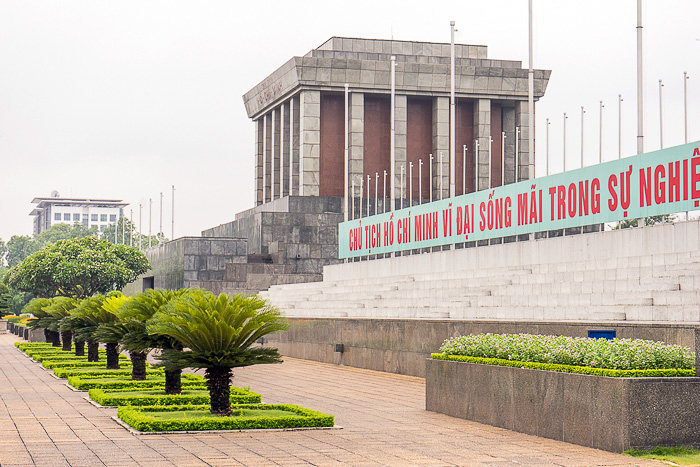 Few things are more ghoulish than a human corpse. One of those things, however, is a human corpse which has been embalmed to the point of plasticity. The body of Ho Chi Minh, Vietnam's greatest leader, has been "honored" with exactly this fate. 48 years after his death, Uncle Ho still looks as though he's just laid down for a nap. Encased within glass, in the middle of a massive mausoleum, in the center of his nation's capital, it's almost as though he's waiting for a kiss to wake him up.
Goulish, yes, but my god, did we love our visit to Ho Chi Minh's Mausoleum. Experiences as surreal as this are hard to come by. Perpetual embalming is not a fate I would choose for myself or my loved ones, but I'm glad someone made the sacrifice (even if it was the opposite of his explicitly expressed wish to be cremated).
On a regular day, the line for the mausoleum is daunting. This is a site of quasi-religious pilgrimage for the Vietnamese. (Can you imagine the chance to see George Washington's corpse in Washington DC?) Many tourists are surely scared off by the crowds, but that's a mistake, because this is the fastest line in Vietnam. Pictures are strictly forbidden, and armed guards keep things moving along swiftly; pause for more than a second, and you'll get barked at.
The room in which Ho Chi Minh rests is dark and red. His body lays in a glass case, illuminated from above, the lights bouncing off his shiny forehead. You can't get too close, and you have to steal glances while shuffling ever forward in line, but it's still fairly obvious that this body — which celebrated its 127 birthday in 2017 — has become more artificial than organic.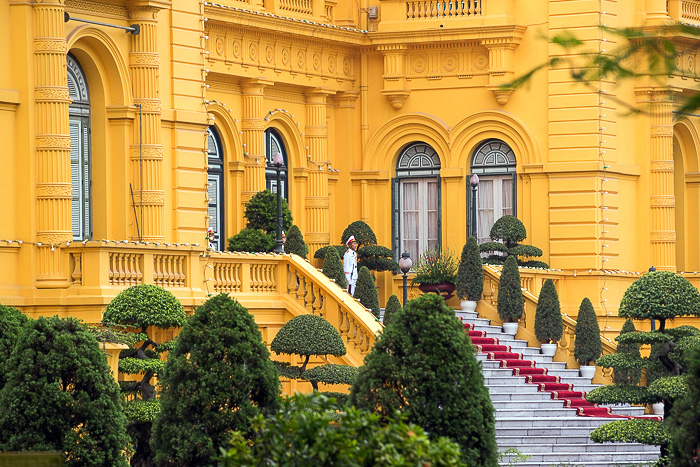 Once through the mausoleum, the visit continues to the bright yellow Presidential Palace, in which Ho Chi Minh famously refused to sleep. He wanted a more humble abode, and made his home in a stilt house next to the palace. Because it's still used for official functions, the palace is off-limits, but you can scale the stairs of the stilt house to see the rooms in which he slept and worked.
After checking out the stilt house, make sure to find Hanoi's famous One Pillar Pagoda, which is also in the same complex. This temple was originally built in 1049, although it's been renovated and rebuilt many times since. The single pillar is meant to resemble a lotus blooming out of the water.