Opened in 1990 on the occasion of his 100th birthday, the Ho Chi Minh Museum in Hanoi is found within the same complex as his mausoleum. The museum is heavy on symbolism and does an excellent job introducing and celebrating Vietnam's most famous historical figure.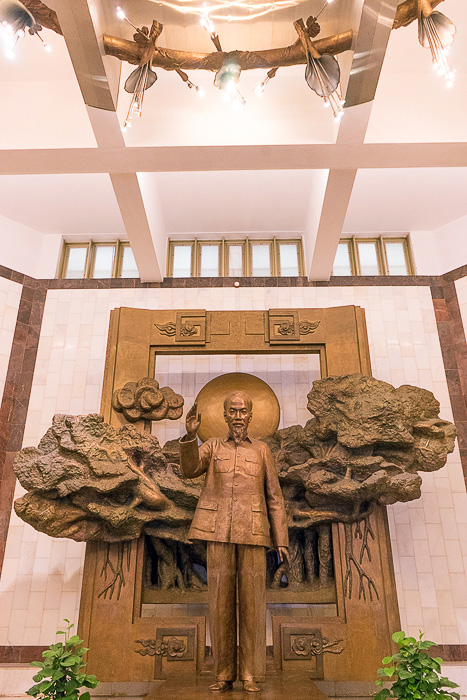 Our visit to the Ho Chi Minh Museum in Saigon had been a real disappointment. We had been excited to learn about one of the most consequential statesmen of the 20th century, but Saigon's museum was nothing but a bunch of nonsensical propaganda displayed without any cohesion. We didn't have much hope that the Hanoi's version would be any better, and showed up expecting to be unimpressed.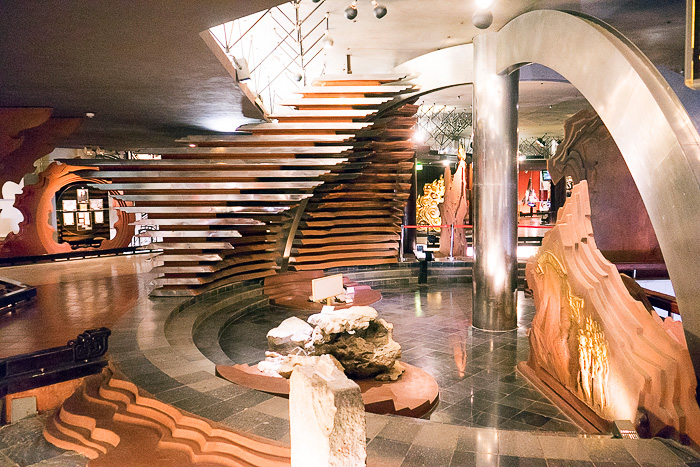 And initially, we were. The building, meant to resemble a flowering lotus, is quite large, but there was nothing on the ground floor except a gift shop. On the second floor, we found a temporary exhibit with random items that … might have belonged to Ho Chi Minh? I wasn't sure, because all the information was in Vietnamese. "It's going to be another one of those museums", I sighed to Jürgen.
But on the third floor, which holds the permanent collection, my opinions took a 180° turn. Here was the tribute to Ho Chi Minh for which I'd been waiting. The museum doesn't just take you through his life, but also through the times in which he lived. A number of rooms show you things like the scientific innovations of the early 20th century, many of which inspired and informed Ho Chi Minh's worldview. There's a symbolic display representing his humble, rural upbringing, and another room dedicated to the horrors of fascism, against which he toiled his whole life. And it's all beautifully arranged, with an interior design concept that borders on the bizarre.
All the information is provided in both English and Vietnamese. I was interested enough to read almost everything, and to scroll through all the old archived pictures and articles, posted on flipboards throughout the museum. Ho Chi Minh was a lot more worldly than I had realized. He studied in London and Paris, where, known has "Nguyễn Ái Quốc", he was a frequent correspondent and agitator for Vietnamese independence. He worked as a baker in the USA, and was arrested in Hong Kong for Communist activities. A large, light-up map shows all the countries which Ho Chi Minh visited and worked in, and the list is beyond impressive. Let's just say, he beats us handily, and this was the early 1900s, when travel wasn't exactly as simple as it is today!
It took about one hour to get through the museum; it's really just the one floor, and if you don't read all the material, you could finish much more quickly. Regardless of one's feelings toward communism, it seems impossible to reject Ho Chi Minh's legacy. He worked tirelessly throughout his life for the freedom of his people… and if that's not the definition of a hero, what is?
More Photos from the Ho Chi Minh Museum