Six Special Dishes from Hoi An
For such a small city, Hoi An has a surprisingly rich food culture. There are dishes here which you can't find anywhere else in Vietnam, and an abundance of great restaurants and street stalls in which to try them. If in doubt, head to the central market, where a delirious hall of food stands is serving up any specialty you could possibly hope for.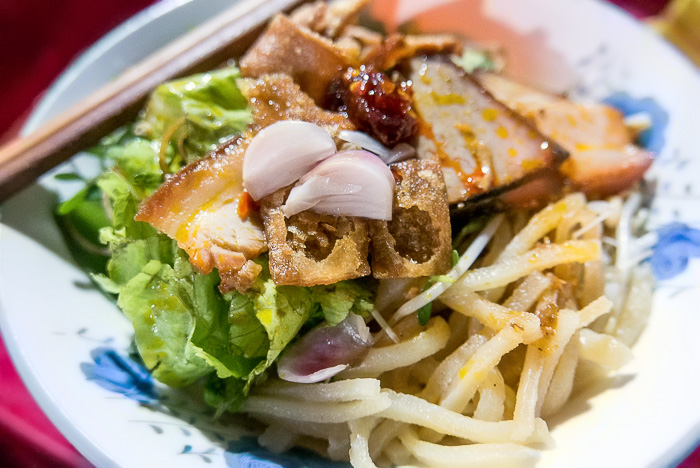 If you believe the local legends, Cao Lầu is a dish which can only be prepared in Hoi An. The water used to boil the noodles must be from a particular well, and the noodles must be ground from rice mixed with ash from Cham Island. It's a questionable story… but who cares, when the dish is this good? Cao Lầu could be made with cremation ash, and I'd still eat it. The noodles are thick, almost like udon, and served with pork and a generous amount of greens in an oily sauce.
It took a long time to track down someone selling Đậu Hũ, but we eventually found a woman on Lê Lợi. Using another customer as translator, we talked with the elderly street vendor as she was preparing our tofu. She's been selling this single dish for over 50 years, having inherited the family business from her mother. That's a long heritage, and the pudding which she served us, drizzled with a deliciously sweet syrup, was proof that sometimes the simplest dishes are the most enduring.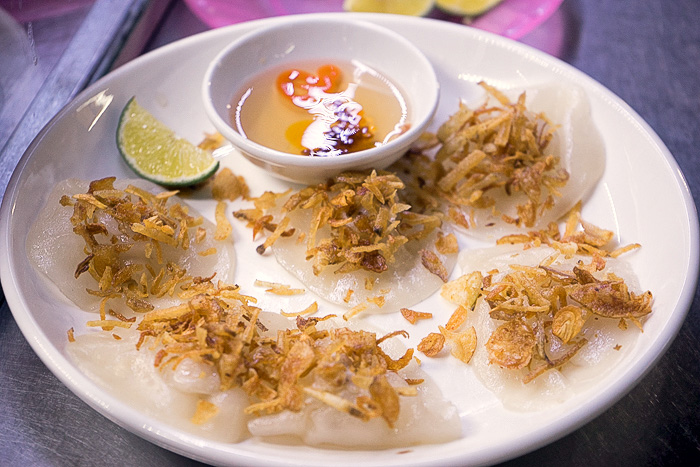 It's easy to see how this dish got its name. These delicate dumplings filled with pork or shrimp are squeezed together so that they resemble white flowers. Delicious white flowers. The dumplings are topped with roasted garlic, and served with a spicy dipping sauce. Ignore claims that you can "only" try them in a certain restaurant, because the dumplings can be found at almost every stand in the central market.
Hoi An's central market is a wonderland of food stalls, and we were upset to have only discovered it halfway through our stay. On our first trip inside the market, after finishing lunch, we saw two ladies selling a strange, blobby confection known as Bánh Đúc. We plopped down on tiny stools and ordered one. The women watched carefully as I unwrapped the treat and bit into it. Bánh generally means "cake", so I had been expecting something sweet, but this was shrimp-flavored. A surprise, but once I got over the initial shock, I enjoyed it.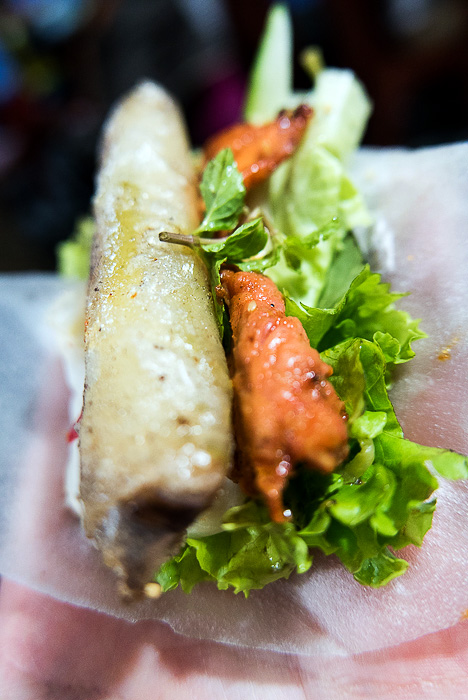 Of all the dishes we're featuring here, this is the one which only barely merits inclusion as a "Hoi An Specialty"; thịt nướng (barbecued pork) is something you can find all over Vietnam. But the thịt nướng at Bale Well is something special. For about $5, you're presented with an all-you-can-eat buffet of pork, eggs, rice paper, noodles and greens, inside a garden courtyard with a wonderful atmosphere. After the waitress whipped up a couple example rolls for us, we got to work. Upon leaving, stuffed and happy, we met the proprietor of the restaurant, who proudly showed us pictures of Russel Crowe and insisted upon taking selfies with us… just in case we were famous, too. [Location]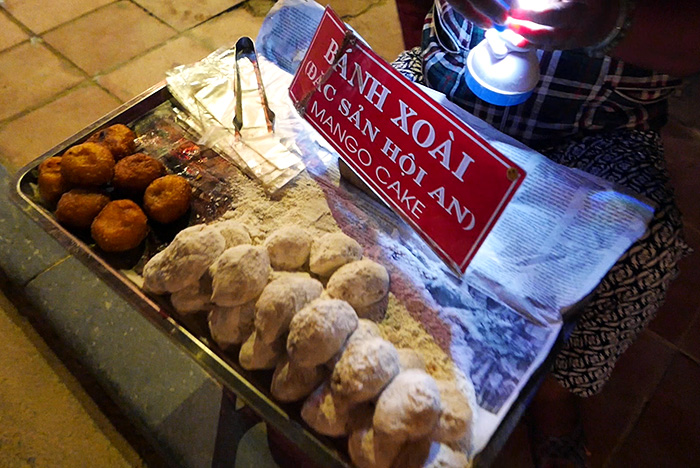 We were very excited for Bánh Xoài, because "Mango Cake" simply sounds delicious. The first time we ordered one, we chewed and chewed, enjoying the treat, but concerned by the lack of mango taste. The second time, we paid more attention and realized the dark truth: there's no mango in mango cake. This is a snack of peanuts and sugar wrapped in glutinous rice. The name apparently comes from its mango-like shape… but I call it false advertising!
You can find these being sold all over Hoi An, by roving street vendors who are always on the lookout for cops. Sadly, Hoi An seems to be shutting down its street food scene.
Cao Lầu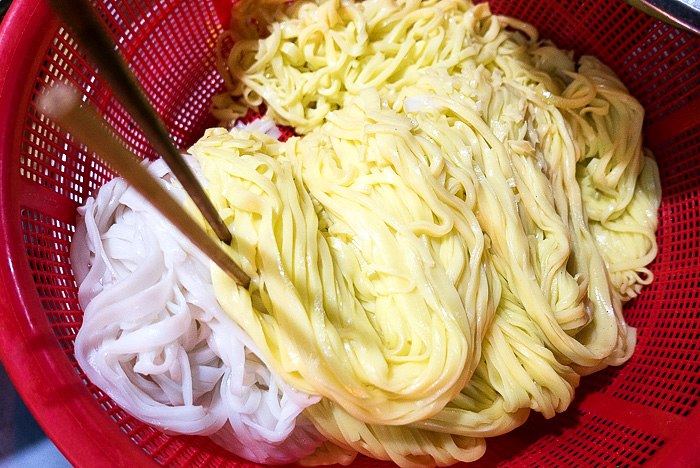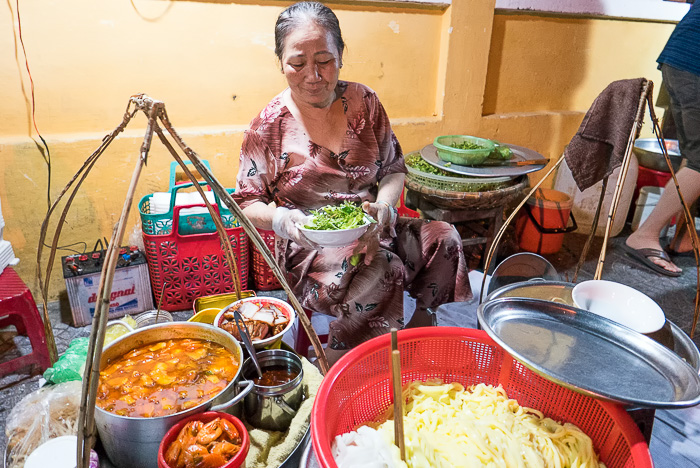 Đậu Hũ (Tofu Pudding)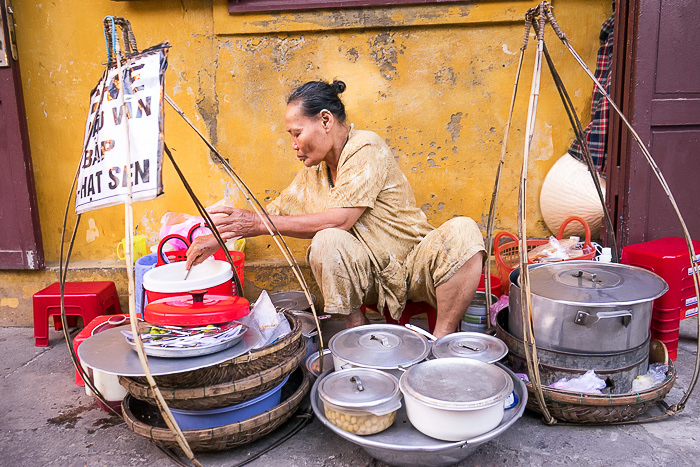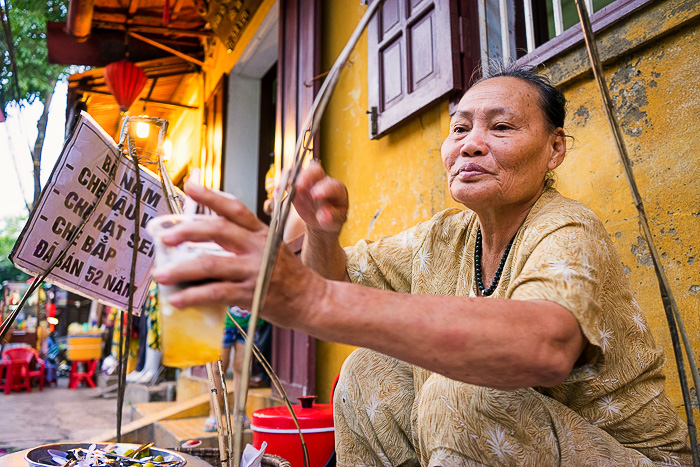 White Rose Dumplings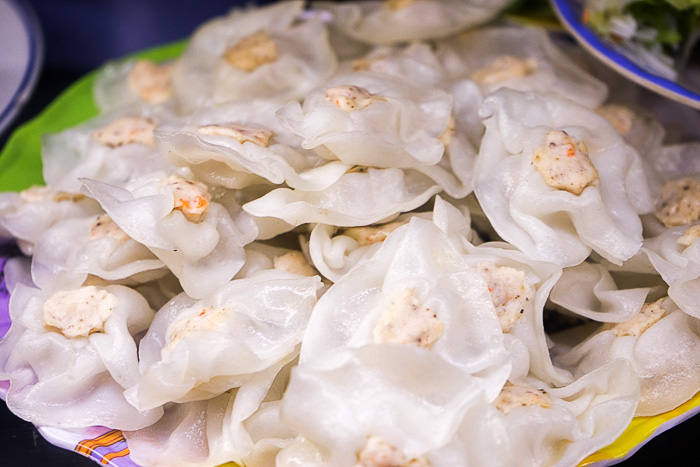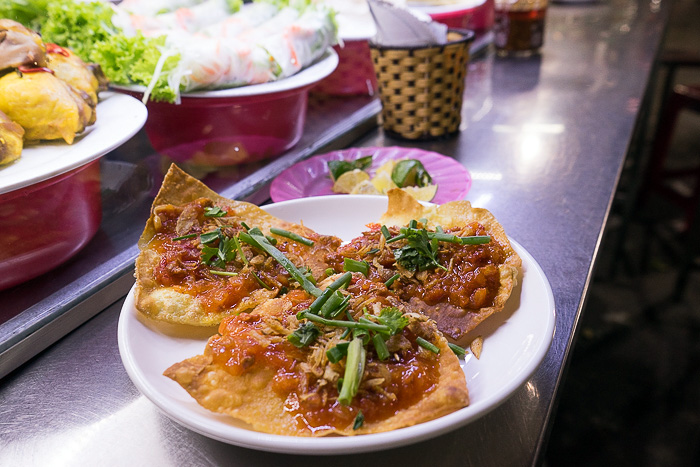 Bánh Đúc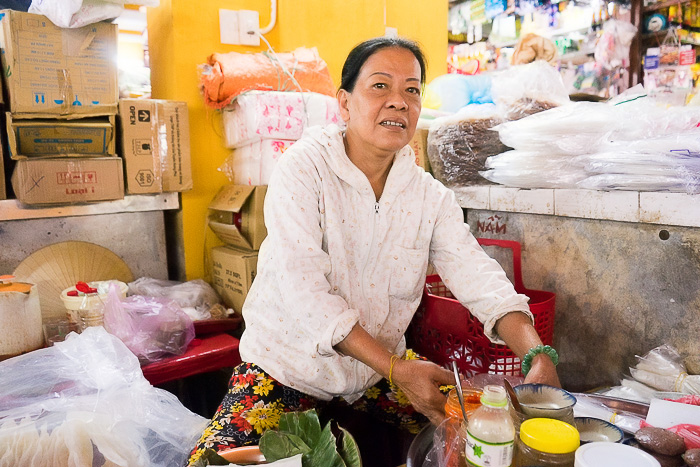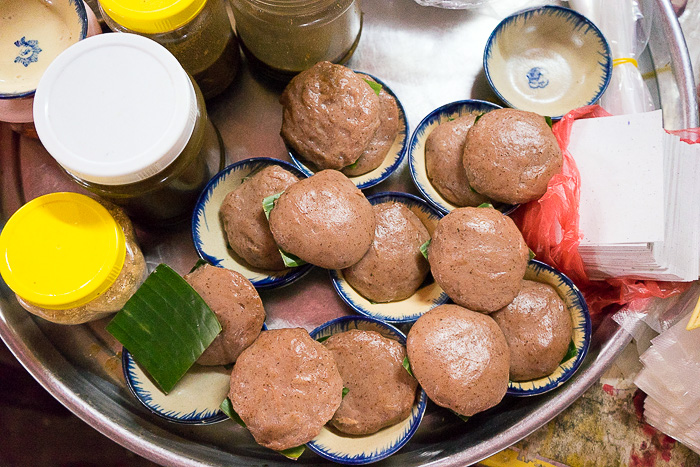 Thịt Nướng at Bale Well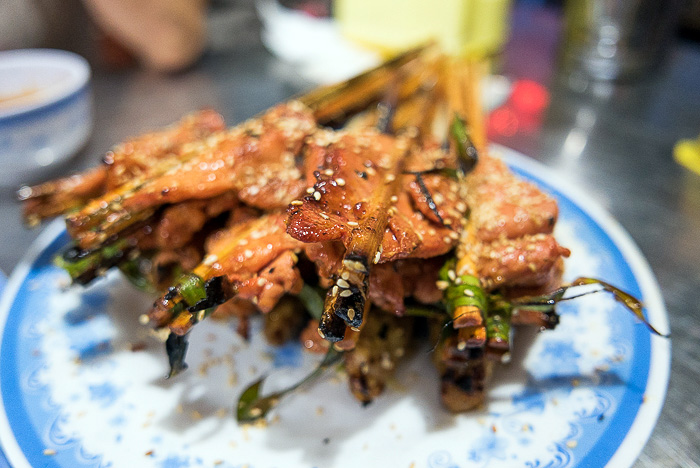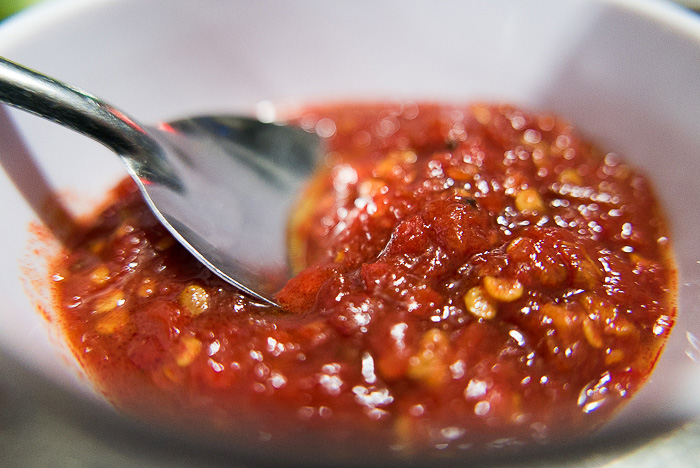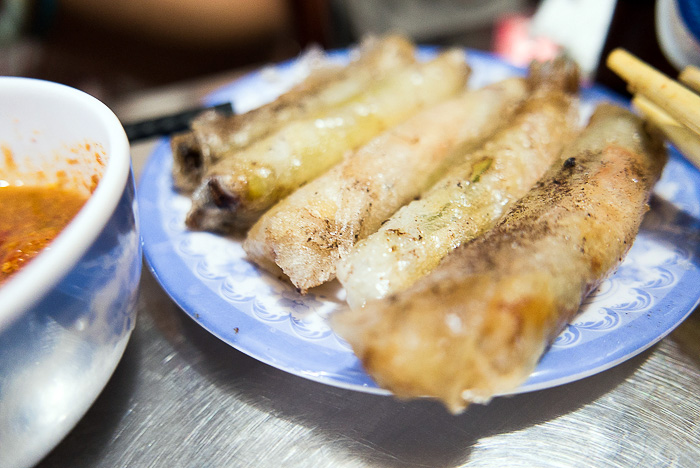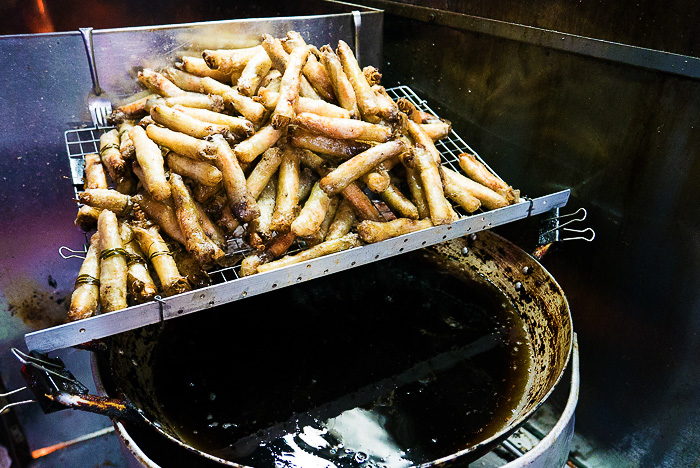 Food Stands at Hoi An's Market