The Bát Tràng Pottery Village
Just to the southwest of the city center lies Bát Tràng, a village which has been making ceramics for centuries. We spent a day here, touring a factory and admiring the ceramics being sold in just about every store in town.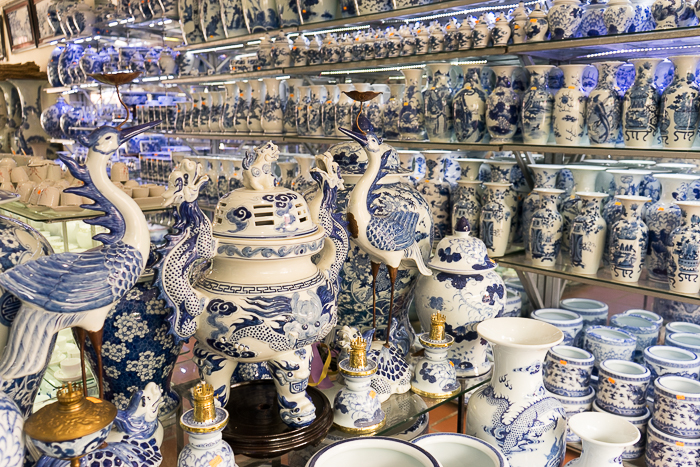 Before arriving in Vietnam, the idea that an entire village might produce specific items was bizarre to us. But Hanoi is surrounded by hundreds of craft villages, each of which is historically responsible for a specific craft. The most well-known product in my home town of Bluffton, Ohio, is probably the slaw cutter (for real). But I can't imagine the town council deciding that everyone in Bluffton must now concentrate on slaw cutters. In Vietnam, however, this kind of collective focus is common. This is the metal-forging town. That is the wicker town. Bát Tràng, you get pottery, you lucky devils.
Craft villages are starting to disappear, but some are still very much active, including Bát Tràng. Ceramics are everywhere here. Every store sells them, every house produces them, every stand at the market displays them. Kids play with ceramic toys. Dogs chew on ceramic bones. Ceramic people breathe ceramic air, and use ceramic tools to make more yet ceramics. One correctly placed swing of a baseball bat could destroy the entire town.
We first visited the market, and were amazed by the prices. When literally every one of your family members, friends and acquaintances is also in the ceramics game, competition is fierce. There were the usual vases, pottery and housewares, along with more modern and artistic pieces, all of them at rock-bottom rates.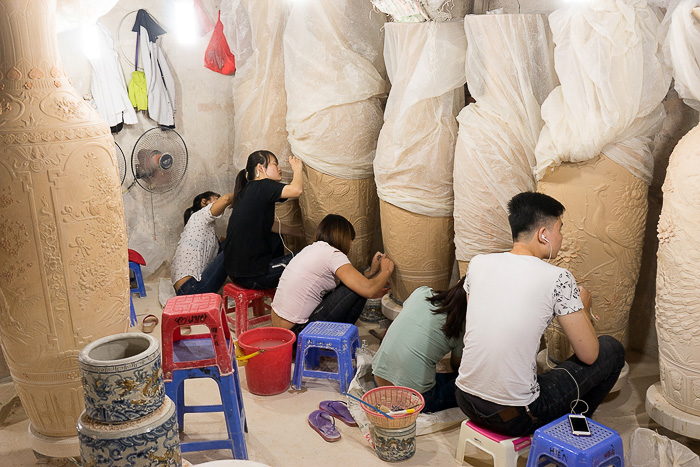 From the market, we moved on to the Bảo Long factory, which is probably the most prestigious in town. We wandered inside, past man-sized vases, and had the chance to watch villagers sculpt, fire, and hand-paint their newest creations. We can't get over the artistic talent of so many people we've encountered in Vietnam, and how thankless their jobs are. In America, each one of these guys would consider themselves an artist, and have their works displayed at self-funded exhibitions, but here they're just more cogs in the machine.
Outside the factory, we walked around town a little, and peered into the various workshops that are found in seemingly every other house. Near the market, we met a woman who offers tours of the town, including a ceramics-making session in her home workshop. You create something in the morning, then let it bake while touring the town, and pick up your piece afterwards. I almost fell over when she told us the price for full-day tour; "bargain" doesn't even begin to describe it. (Here is the location of her workshop, if you're interested; the best idea is to head directly there in the morning.)
Even though we missed out on the chance to make our own ceramics, this was an excellent day out, and I imagine it'd make for a fun crafts-type activity for families, and it also seemed popular with young couples keen to live out Ghost-inspired fantasies. Bát Tràng is near Hanoi, and makes for a very rewarding day out.
-We highly recommend this Vietnam Visa Approval Letter Agency
Locations: Bát Tràng Market | Bảo Long Factory | Tour Lady's Workshop