It was with reluctance that we got back on our motorbikes, and put Du Gìa in our rear view mirrors. Our next stop would return us to Ha Giang, and complete our tour with Chu Chu. This trip had been incredible, and it was to be our final adventure in Vietnam. Not just four days, but six months were coming to an end, and it was hard to stomach.
But we weren't so depressed that we couldn't enjoy the scenery. This stretch of our trip provided us with some of the most amazing landscapes we'd seen throughout our four days on the road. Because of the scheduling, and the markets we'd hoped to hit, we were doing the "usual" Ha Giang tour in the contrary direction… Chu Chu's tour normally goes counter-clockwise around the province. But everything had been so perfect, I'd almost recommend people do it clockwise, like we did. I can't imagine a better way to conclude four days on the road, than the scenery we saw today.
After a couple hours of driving, we stopped to chat with a group of kids who had gathered by the road. We noticed that all of them were carrying baskets, in which they kept baby birds. Just as Western kids might collect Pokémon, the children of Ha Giang collect little birds. They find hatchlings which have fallen too early from their nests, and raise them as their own, teaching them tricks and building a bond with them. As Chu Chu was explaining this to us, one of the birds started flapping around our group, and landed on his head.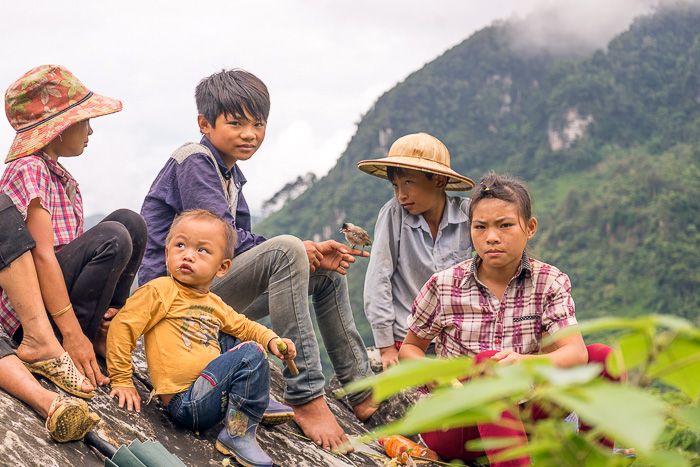 The next time we pulled over, it was at a waterfall which you can usually swim in. Because of the rain which had fallen most of the previous day, the current was too strong, and we took a pass on bathing. The strong river, however, wasn't stopping the local folks from wading across. This waterfall is nothing but a part of their daily commute.
Near the waterfall, we passed through Hạ Thành, a village with the most picturesque rice terraces imaginable. This was just ten minutes by motorbike from Ha Giang, and has a few homestays to choose from. Even if you don't want to do the full, four-day Ha Giang loop, it would be worthwhile to spend a couple days here. Tranquil and utterly beautiful.
Eventually, our trip came to an end, and we said our farewells to Chu Chu. We felt as though we'd become close over the past few days and were on the verge of tears, but we held it together. After all, this is a tour he makes quite often, and he probably gets the same reaction from all his customers. Regardless, I can say with certainty that we'll never forget him… and that goes for Ha Giang, as well.
Locations: Hạ Thành | Waterfall
–Book This Incredible 4 Day Ha Giang Loop Tour With Chu Chu