Hanoi's Famous Egg Coffee
Good morning! Sleep well? I see that you're hungry and could use a jolt of caffeine. How about an egg and a nice cup of coffee? No problem, here you go! But… why the troubled grimace? Didn't you know that in Hanoi, we put the egg into our coffee?
When I first heard about Hanoi's Egg Coffee, I was disgusted. The thought of mixing egg and coffee, just… no. But this is among the city's more famous culinary creations, so we decided to give it a shot.
Egg Coffee was invented at Hanoi's Cafe Giang, a small coffeehouse near Hoàn Kiếm, and this is still the most popular place in which to sample it. In fact, if you do any online research, you might reasonably come to the conclusion that it's the only place to try it. Peeking inside, we saw groups of tourists occupying every seat, and so we hightailed it out of there. If this drink is really so beloved in Hanoi, surely we could find it somewhere else.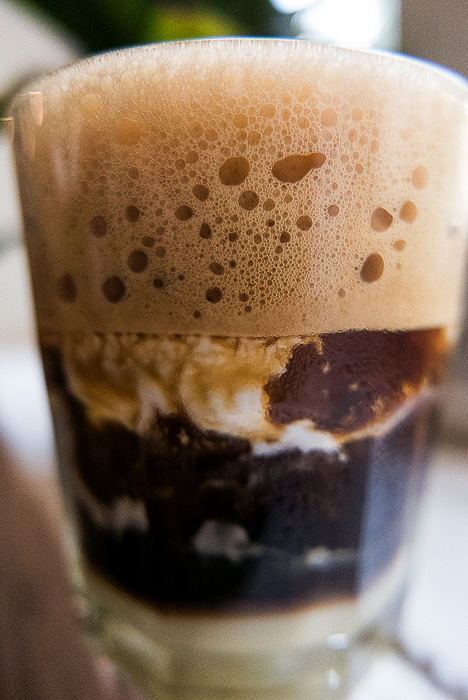 We ended at one of our favorite cafes, Ohayo, near the Military History Museum. (Update: Ohayo has now moved to 214 Xa Dan. The new location has been updated on our map.) Jürgen loved this place for its secretive location, down a small alley on the second floor of an unassuming building. I loved it, because the name is a homophone of my home state of Ohio. I enjoyed telling Jürgen that I was going "back to Ohayo", knowing that somewhere in the back of his mind, he had to be concerned that I was leaving him.
But the main reason we loved Ohayo is because it's quiet and cute, and the staff is friendly. When we asked if they could demonstrate how to make Egg Coffee, they immediately agreed.
Turns out, there's no great trick to this concoction, just a lot of work. You separate the yolk, then beat it with sugar for a long time, until it's frothy and thick. And then, you pour it into the coffee. The resulting combination tastes better than you might think; in fact it's delicious. Sweet and creamy, the egg almost completely dominates the flavor of the coffee.
They also offered to make us a Coconut Coffee, which definitely sounds more appetizing than Egg Coffee. Made with coconut milk, condensed milk, and crushed ice, this is an ultra-sweet treat, which we felt almost guilty about consuming. Almost.
Although Egg Coffee isn't something I could drink on a daily basis, I've certainly stopped grimacing when confronted with the idea. In fact, I've started to wonder why this drink hasn't caught on in other cities; it's certainly simple enough to make, and different enough to be something special.
–Traditional Vietnamese Coffee Article / Buy Vietnamese Coffee Here
Location on our Map: Cafe Ohayo