Consecrated in 1886, St. Joseph's Cathedral was one of the first buildings constructed by the French after the conquest of Hanoi. With a prime location just to the west of Hoàn Kiếm Lake, the church is among the most impressive pieces of colonial architecture in the city.
St. Joseph's looks every bit the part of "ancient European cathedral", with its austere gray facade and massive twin bell towers. The only problem is, it's not in Europe. In the Old Quarter of Hanoi, with its narrow tube houses and skinny alleyways, the church is totally out-of-place. Its obvious influence is the Notre-Dame of Paris, seen most clearly in its bell towers. (This must have been a habit of French colonialists; Montreal's Notre-Dame features the same type of architecture.)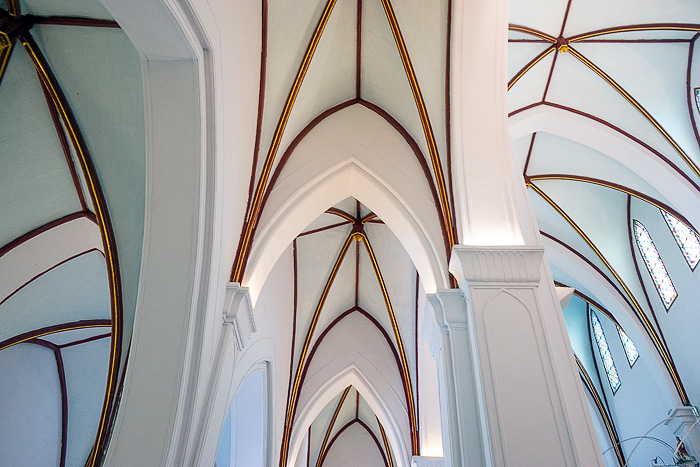 We attempted to visit the church on a Sunday, but severely underestimated the popularity of its morning mass. Worshipers were packed within the hall tighter than sardines, past the pews and all the way to the main gate, and we couldn't even get inside. In this country full of Buddhist temples and Taoist shrines, it's easy to forget that Vietnam has over four million practicing Catholics. St. Joseph's is the country's most important cathedral, and serves as the spiritual center for a significant religious minority.
Until the end of mass, we waited around at a nearby rooftop bar. It was just 11am, but we were feeling the Catholic vibe, and ordered wine (which is a Catholic thing to do, right?) Once the ceremony concluded and people started to swarm out of the gate, we hurried outside. The congregation left the church in a festive procession, with a marching band at the front and a crowd lined up on the side of the road.
Once the parade had passed, we had a chance to see inside of the church. With the vaulted ceilings high overhead, and the tall stained glass, it looked much like the cathedrals we've seen in Europe. That was simultaneously impressive and disappointing; cathedrals are always breathtaking, but we had hoped to find some nods to local culture. In Bolivia and the Yúcatan, for example, we loved the syncretism with local beliefs within the Catholic churches. Even in Idaho and Montreal, we'd seen some acknowledgement of Native American culture… but in Vietnam, it was apparently the French way or the highway.
–Book Your Vietnam Train and Bus Tickets Here
St. Joseph's Cathedral Photos and a Video