Bia Hoi in Hahoi… Banoi… Haboi (burp) Hanoi!
After one weekend in the city, we had already established Bia Hoi as our favorite new Hanoi weekend tradition. Bia Hoi joints are found on almost every corner in the capital, serving light, super-cheap draft beer, along with food. It doesn't matter what kind of day you've had: if you finish it by pounding down a few Bia Hoi, you'll go to bed happy.
It's hard to overstate the popularity of Bia Hoi in Hanoi. These bar-restaurants are everywhere, and once the sun goes down, they're all crowded. Why pay full price for a bottle of beer at a bar, when you can plop down onto a plastic stool and order a big draft beer for less than 25 cents? And since Bia Hoi is low-alcohol (around 3%), you don't have to feel bad about ordering another round. And then another round. And then a round to drink with your new buddies at the neighboring table. And then there's the round they've ordered for you. And has my Vietnamese gotten better? And you guys are all so much fun!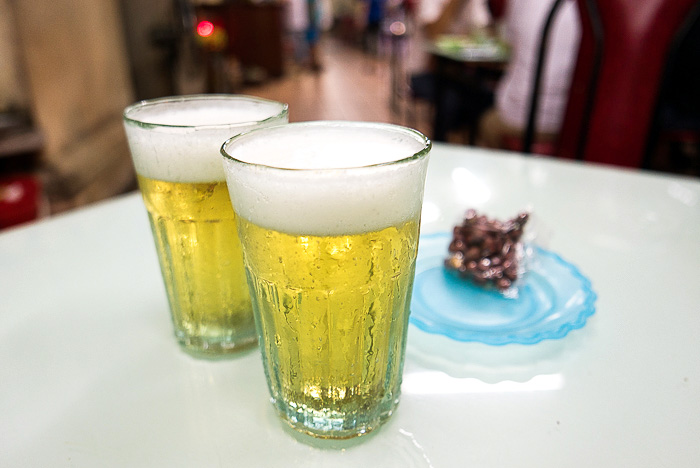 It doesn't hurt that Bia Hoi is delicious; served ice-cold with a light, wheat taste, it goes down easy, especially on a muggy summer evening. The beer is brewed daily and delivered in steel kegs every morning to the thousands of shops around the city. Anything that's not consumed on the same day must be thrown away. There might be some health concerns about Bia Hoi, as the industry is not subject to any regulation, but we had a hard time being nervous. So many people drink the stuff at so many places, every single day, that it's easy to shove any concerns to the side.
And once you've sat down, you're going to be so busy making best new friends ever, that you won't have time to worry. Bia Hoi places are social hot spots, and if you go to one outside of the Old Quarter, foreigners are rare enough to cause a commotion. Usually, we had locals at our table within minutes, practicing their English, helping us with the menu, telling us about their family in the US, or just drunkenly smiling at us.
Usually, the worst part of a big drinking evening is the arrival of the check. But at a Bia Hoi joint, it's the best. Our first time out, we ordered eight beers and two big plates of food, and the total bill was $5.20. And while I would normally classify "low-alcohol beer" as a negative, I actually appreciated it with Bia Hoi; you can drink and drink, and have tons of fun, and almost definitely wake up the next morning without a hangover.
There's a famous "Bia Hoi Junction" on the corner of Tạ Hiện and Lương Ngọc Quyến, in the Old Quarter. But this is packed with foreigners… depending on the type of evening you're looking for, that might be a good or a bad thing, but we tended to stick to the shops favored by locals. Check out Bia Hoi Lan Chín, near the Opera House, or any of the no-name joints on Quốc Tử Giám, near the Temple of Literature for a more Vietnamese vibe. Another great spot is at 48 Lê Duẩn, which has a upper-floor terrace, from where you can watch the train rumble through the city.
–Download Our Travel Puzzle Game
Locations: Bia Hoi Lan Chín | Quốc Tử Giám | Lê Duẩn