Toward the end of April, we went to the station in Saigon and boarded the Reunification Express, a train which connects the two capitals of the once-divided Vietnam. But we wouldn't be taking the train straight to Hanoi, a journey which would require 34 hours. No, we'd be taking it in stages, pausing in a number of Vietnam's most historic cities. First stop: Danang, "just" eighteen hours away.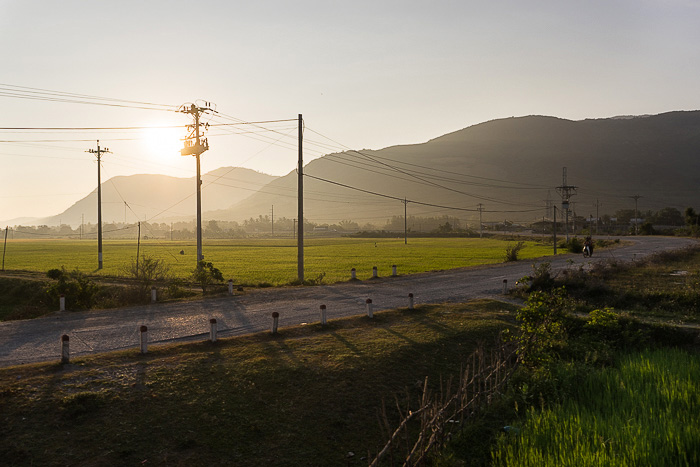 Our journey north started under inauspicious circumstances. The train was delayed by over two hours. It got to be past midnight. A major lightning storm broke out. An ugly kid in the station kept running over and slapping us, much to the amusement of his father. Things were turning sinister, and we started to worry that this might be an omen for our journey north. Then, once we were finally aboard the train, we found our sleeping berths occupied by four women, and had to have a guard kick them out.
We were travelling with a friend, and had a group of three. Since we hadn't booked the entire four-person cabin, one of the women was able to remain. And of course, she was a snorer. And she woke up at five in the morning to babble full-volume on her phone, happily ignoring that the rest of us were fast asleep. She probably did it on purpose, to avenge her stupid friends. She surely hadn't paid for this ticket, and shouldn't have been in our compartment to begin with, and how did this happen and why, god, why?!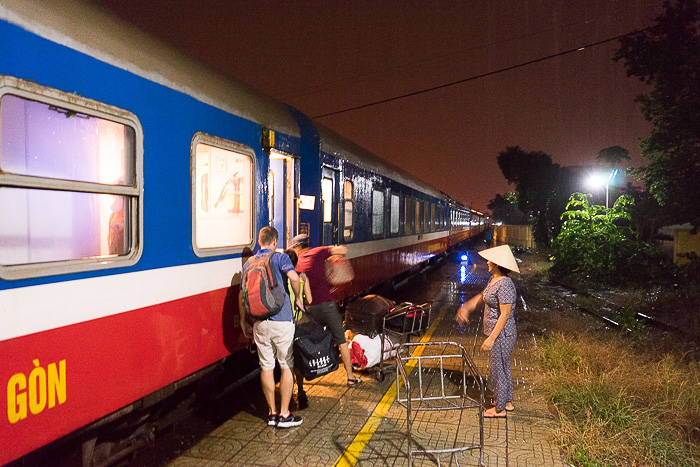 To make things worse, once we had been so rudely awakened, we learned that we had been totally ripped off when buying the tickets. Instead of going to the station, we had thought it'd be easiest to book online. Just lookup Vietnam Railways, and there: Vietnam-Railway.com, "Online Ticket Reservation with detailed train schedules on all routes". Couldn't be easier.
You'd think that having already spent 91 days in Vietnam, we'd have become wise to the country's tricks. But we fell for this one, hook, line and sinker. It turns out that Vietnam-Railway.com is not the official Vietnam Railways site, as one might reasonably assume. No, the official website is DSVN. Turns out, Vietnam-Railway.com is a scam "tourism agency" which charges anyone unlucky enough to stumble on their website a fee over 100% of the original ticket price, without once disclosing the surcharge. Do not book with them. Go to the train station, or use a different online service like Bao Lau.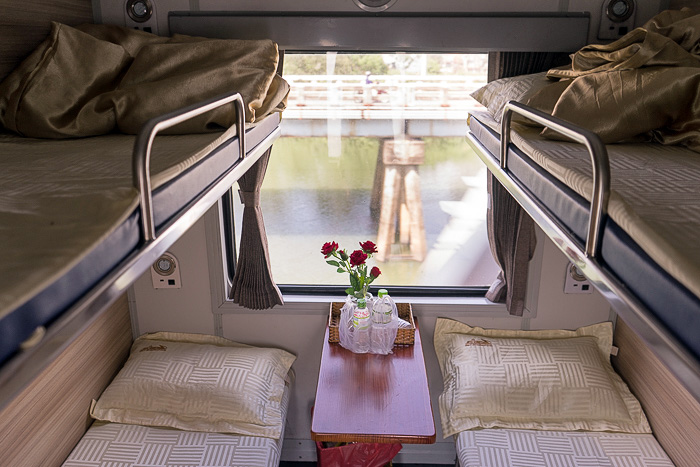 Anyway. With our awful companion's unwanted presence, and the simmering anger at having been ripped off, we were not having fun. But things would turn around, once the sun came up. The woman left the sleeping berth, probably to join her friends in the regular coach. We still had five hours of the journey remaining, and this was the best part of the trip. We were served a steam bowl of pho for breakfast, and our negativity proved to be no match for the beauty of the Vietnamese landscape passing by our window.
By the time we arrived in Danang around 2pm, our moods had just about returned to normal. This train trip might be an omen for our 91 Days in the north, but maybe not a totally negative one. That is, we might find that things are likely to be more difficult, frustrating or even infuriating. We might get ripped off more. But at the end of the day, the experiences and sights of the north will have made all the trouble worthwhile.
We hope.
–Trustworthy Vietnam Visa Agency