Hunting for Wicker in Đông Sơn
Thirty kilometers to the southwest of Hanoi lies the village of Đông Sơn, known for its wicker products. We took a Grab car to visit a small factory that produces wicker goods, and hoped to see the villagers at work.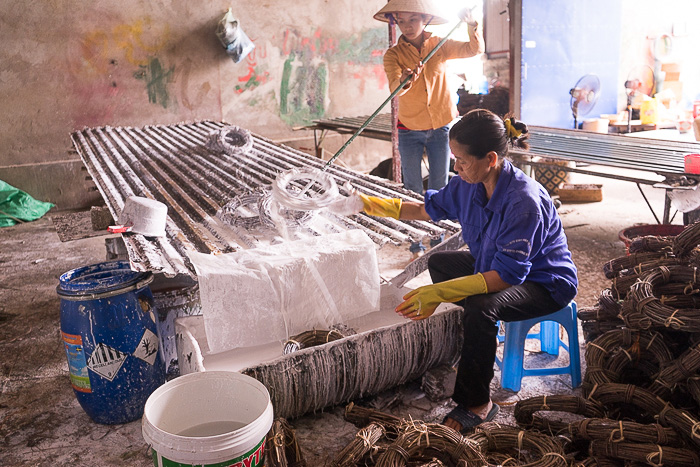 This wasn't as successful an excursion as our trip to the Đa Sỹ forging village. The problems started right away, when our taxi pulled over about halfway to Đông Sơn. She ushered us out of the car and, without any explanation, motored away. We were mystified about what had just happened, and it took forever to find another driver, so it was noon when we finally arrived in Đông Sơn.
We made a beeline for the factory, where we found a couple women winding vine onto wheels. They smiled and waved, but we could tell that our presence was unnerving them almost to the point of panic. Before long, the younger one jumped up and ran into the factory to fetch her boss. He came out, and explained that the factory was closed for lunch. If we could please come back in a couple hours.
Đông Sơn is not the kind of town in which its easy to while away a couple hours. Its one road was dusty, and all of its houses were shuttered up. The only people we saw were a couple guys getting good and drunk for lunch. Without anything else to do, we sat down next to them, which they treated as the most hilarious, unbelievable thing ever. We successfully fended off their unrelenting attempts to make us join them for drinks, instead enjoying instant coffee served in plastic cups, and mentally willing the minutes to tick by more quickly.
On the way back to the factory, some of the town's houses had woken up, and their occupants were back at work. It seemed like everyone in this town was somehow involved in the making of wicker products. (Well, at least the women were; the men we saw were mostly occupied with their drinking). Each house was producing a single item… we saw some women working on small baskets, others making large baskets, and yet others tasked with basket lids.
Honestly, besides baskets, I'm not sure what you can make from wicker. We returned to the factory, where we encountered a half-dozen women working lackadaisically on the production of yet more baskets. At least there was a wide variety, with different sizes and styles. While we wandered around, they trimmed and dipped the baskets in a big trough of white paint.
Based on our visit, we can't really recommend a trip to Đông Sơn. The factory was kind of cool, but not so much as we had hoped. And the village wasn't nearly as cute as others we'd seen. But then, we had some bad luck. Perhaps if we'd arrived in the morning, when Vietnam is at its most alert, Đông Sơn would have been better. Anyway, even though it wasn't a great success, it had at least been an interesting day out.
(Later, after talking with locals, we learned that we should have gone to Phú Vinh, where the tradition is more widespread, and where they're more accustomed to tourists.)