Walking Across the Long Biên Bridge
Walking across the historic Long Biên Bridge is not for the faint of heart. As motorbikes blaze by and trains rumble past, pedestrians have to step along crumbling concrete slabs, with the Red River visible through the gaps, dozens of meters below.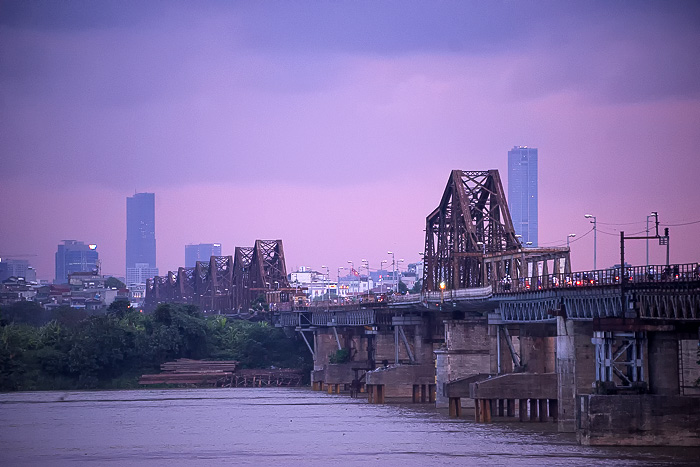 The Long Biên Bridge was built in 1899 by a team of architects from Paris, in the same period as the nearby Đồng Xuân Market. At the time of its inauguration in 1903, it was one of the most spectacular bridges in the world.
Although it was built by the French, the Vietnamese have come to recognize the bridge as a symbol of their indomitable spirit. The bridge was targeted repeatedly during the American War, due to its strategic value. But every time a bomb destroyed part of the bridge, the people of Hanoi would risk life and limb to rebuild it as quickly as possible. The Americans never truly succeeded in removing Long Biên from play.
Crossing the bridge on foot is definitely an experience. The bridge is over a hundred years old, and feels like it. The sidewalk is perilous, and although the locals blasting by us didn't seem to have any problem, we had to muster our willpower for every step. Not that we're afraid of heights; it's just that most of the concrete slabs looked like they might shatter at any moment. The bridge is an impressive 1.6 kilometers in length and, between our picture-taking and jitters, we needed nearly an hour to get all the way across.
Luckily, there was plenty to entertain us along the journey. We paused for awhile at the beginning of the bridge, still above ground, to watch workers unload a truckload of pineapples. And then, midway over the river, we spotted something… fleshy in the water. This crazy Vietnamese guy was swimming against the current, totally naked. We watched, amazed and perplexed, until starting to feel voyeuristic.
The bridge connects Hanoi's Old Town to the district of Long Biên. Although we didn't have a chance to really explore this area, we did venture down to the banks of the river, where a number of fish restaurants are set up, all of them with a magnificent view of the old metallic bridge. Now that we were safely on dry land, we could relax and properly appreciate its beauty.
-Don't Come To Vietnam Without It: Travel Insurance
Locations on our Map: Long Biên Bridge | Long Biên Restaurants