The Tombs of Minh Mạng and Khải Định
Hue's golden days as Vietnam's capital are firmly interred in the past. So it's appropriate that some of the city's most noteworthy sights are tombs. We'd be visiting four imperial tombs during our stay in the city, starting with two of the most impressive: the royal mausoleums of Minh Mạng and Khải Định.
Tomb of Minh Mạng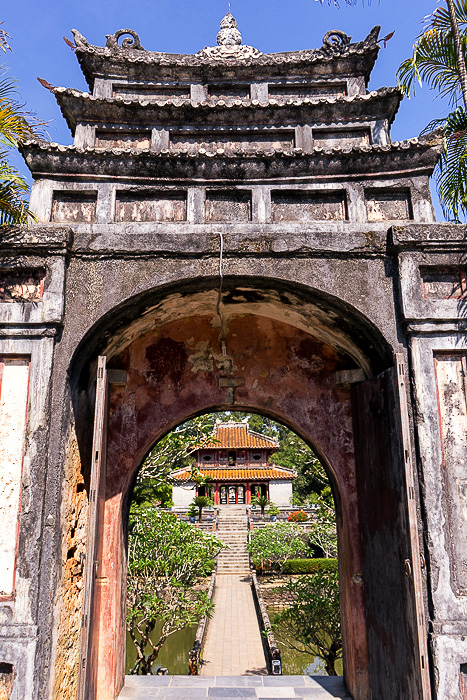 Minh Mạng was the second emperor of the Nguyen Dynasty, reigning over Vietnam from 1820 to 1841. He was a strict, authoritarian ruler, with a firm belief in Confucian ideals and an even firmer distaste for the French. He spent his reign fighting Western encroachment, by outlawing Catholic missionaries and pursuing a strategy of isolation. We'd encountered his name before, while visiting the temple of Le Van Duyet in Saigon; Minh Mạng and his cronies had defiled the late marshal's temple and impugned his reputation, sparking a short-lived revolution.
Not the nicest man, but it's hard to blame him. If your name is Minh Mạng, let alone Emperor Minh Mạng, you're bound to have an evil streak. Destiny is merciless, just ask this guy.
But if you're expecting Minh Mạng's tomb to be dark and menacing, you'll be surprised. This large complex, set in a forest around a sparkling lake, is a place of utmost beauty. The mausoleum is arranged on an east-west axis, with a number of gates and courtyards leading to the burial site itself.
This was the first of Hue's tombs which we would be visiting, and served as a useful introduction to the particular architecture of the Nguyen mausoleums. One element we'd see at every other tomb was a massive stele inside a pavilion, upon which the biography and accomplishments of Minh Mạng have been inscribed. Also, there is a retinue of statues, including elephants, donkeys and a dozen mandarins, meant to accompany the emperor into the afterlife.
After about an hour, we reached a large hill at the very end of the complex, but still hadn't found the actual tomb of Minh Mạng. I looked at the map, and realized with a shock that the hill itself was the tomb. Of course, an emperor isn't just going to have a regular tombstone… but an entire hill? Unfortunately, it was locked up; the gate protecting the hill only opens once a year, on the anniversary of the emperor's death.
The Tomb of Khải Định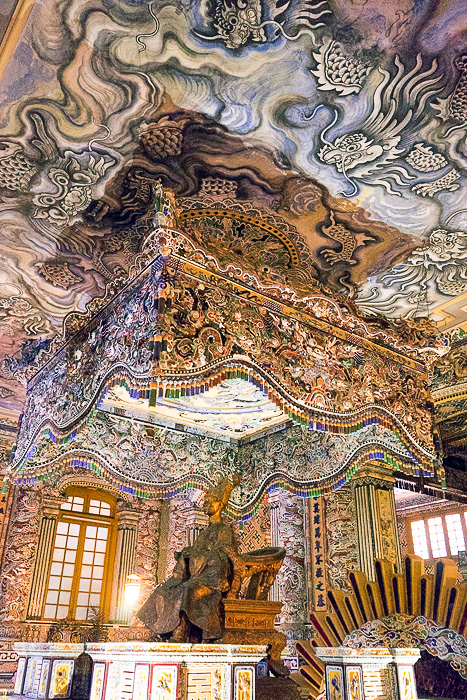 On the other side of the Perfume River, not far from Minh Mạng's final resting place, is the tomb of Khải Định, twelfth in the line of Vietnam's Nguyen emperors. Set almost vertically on the side of a large hill, this mausoleum is breathtaking in its scale and execution, and might just as well be the palace of mountain gnomes.
Given the splendor of his final resting place, it seemed safe to assume that Khải Định must have been one of the country's greatest leaders. So I was surprised to learn the truth. He only held the throne for nine years (1916-1925), and his reign was almost entirely inconsequential. A puppet of the French government, he was despised by the Vietnamese, especially after he brutally raised taxes on peasants to help pay for this mausoleum. He became addicted to opium and died at the age of 40.
But we loved his mausoleum. Khải Định might not have known how to rule, but he certainly understood how to bedeck himself in impressive regalia. One room inside the main temple was especially beautiful, made of ceramics, with a flattering statue of the emperor as its centerpiece.
–Download our Vietnam Puzzle Game App
Locations: Tomb of Minh Mạng | Tomb of Khải Định
More Minh Mạng Tomb Photos: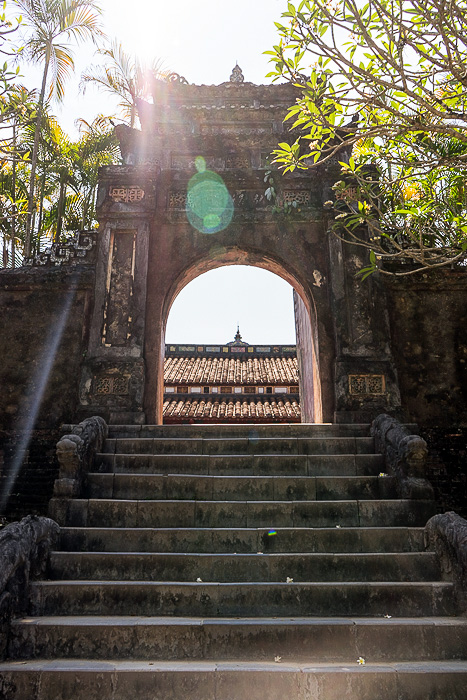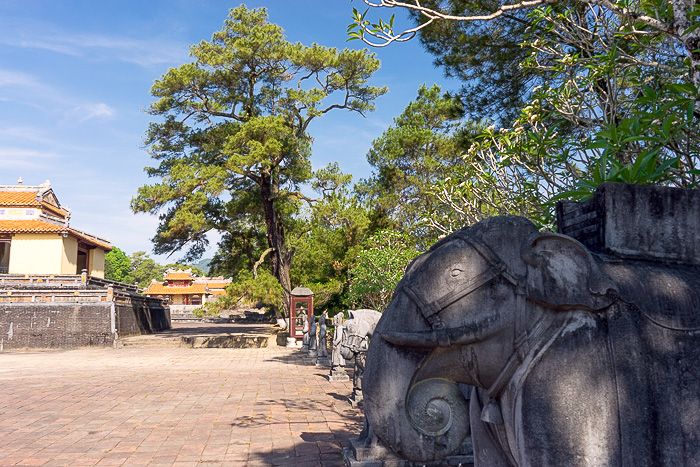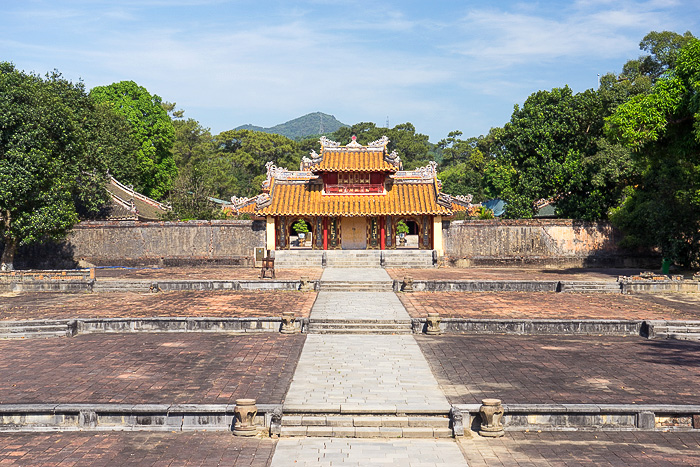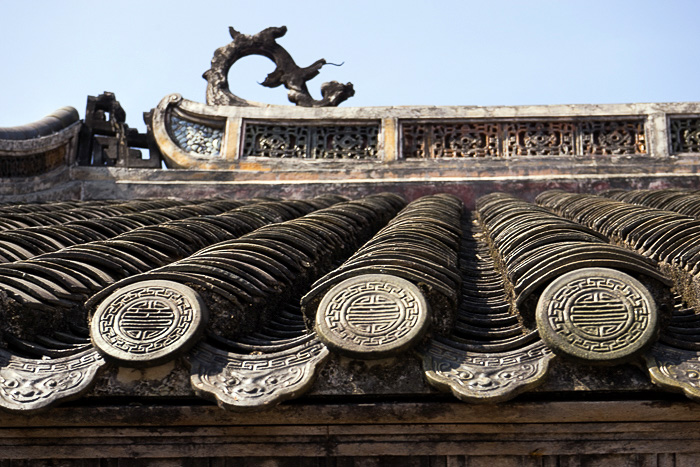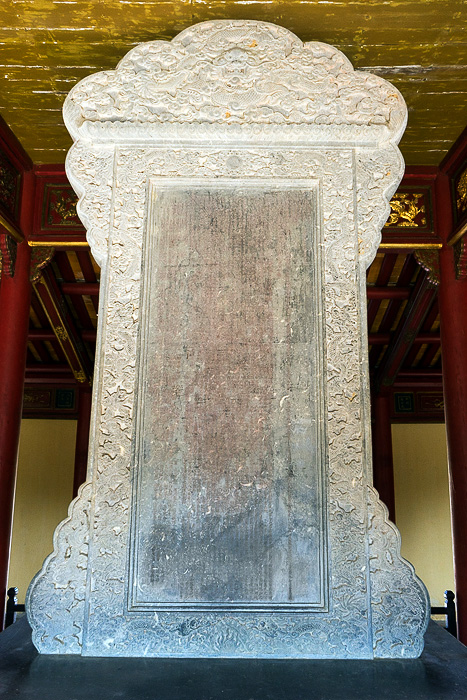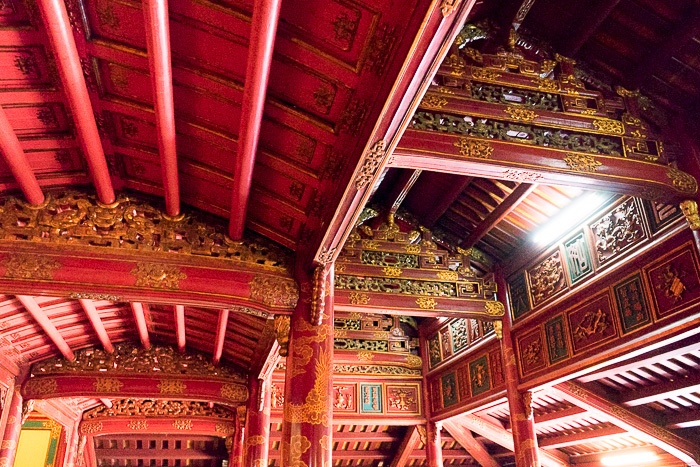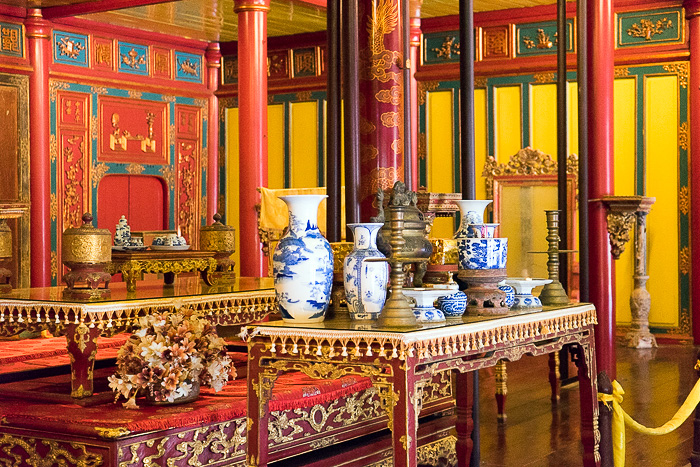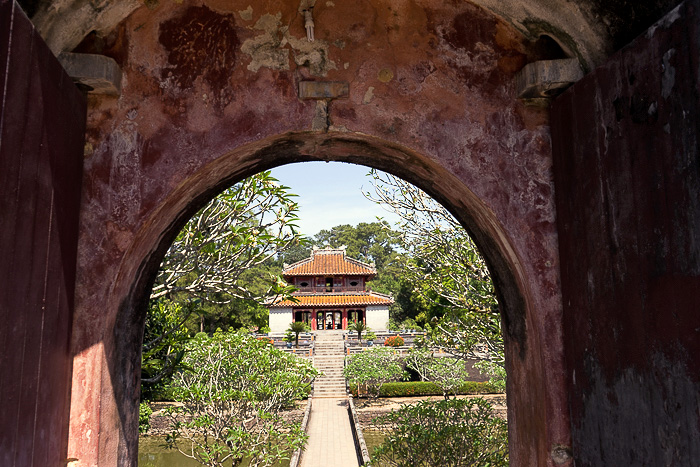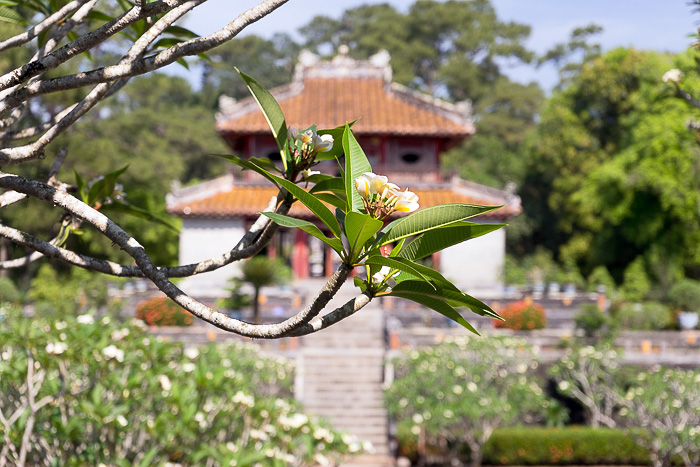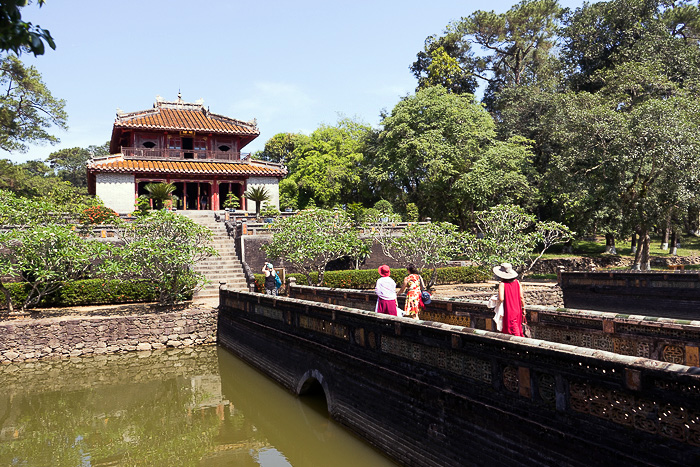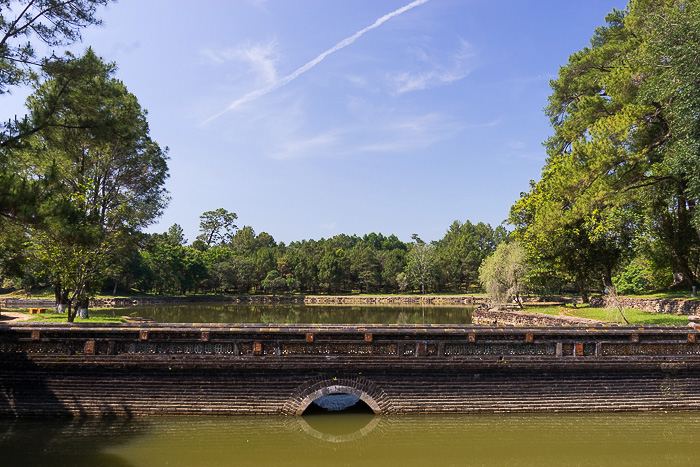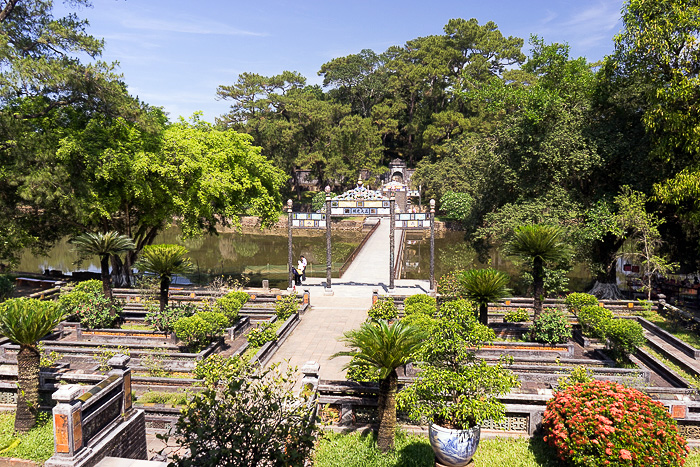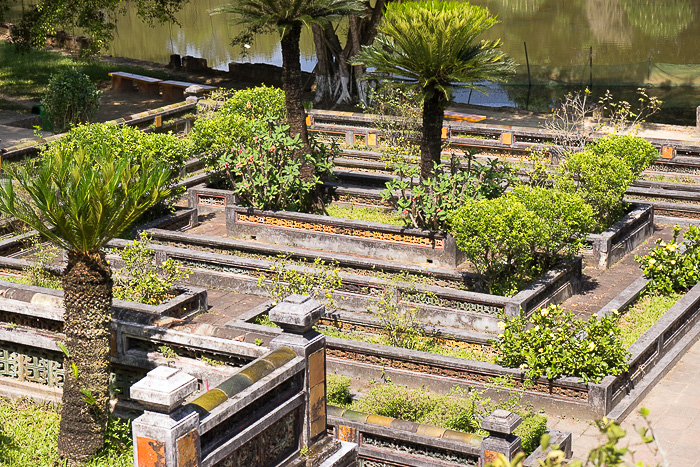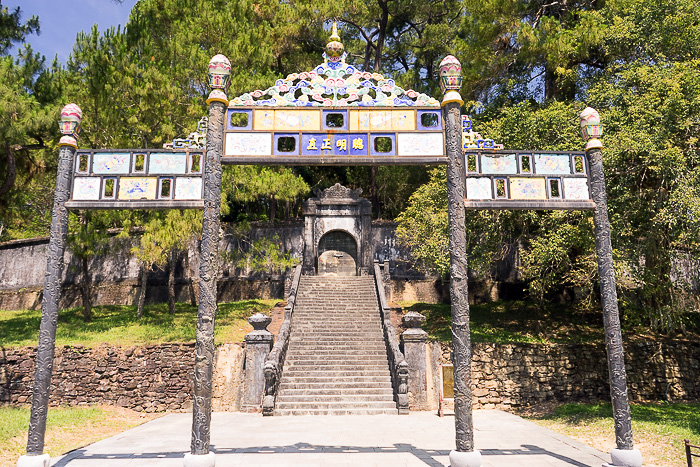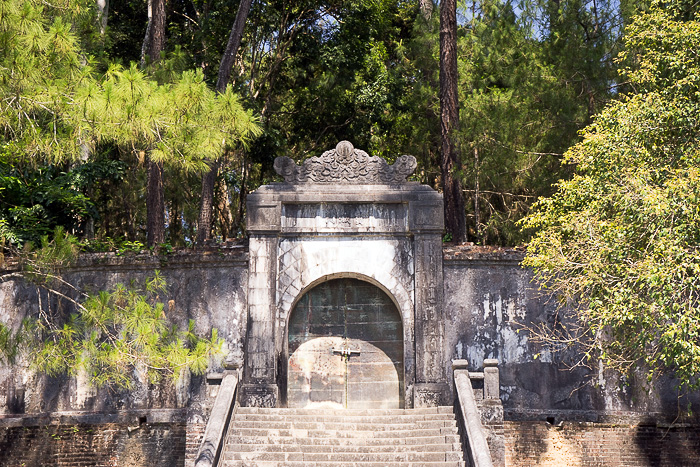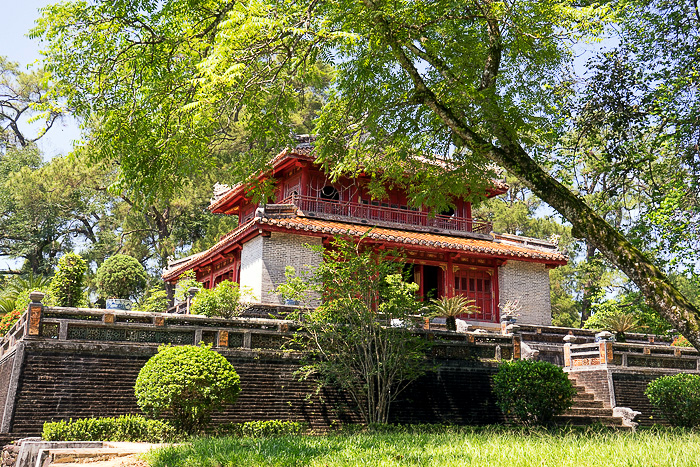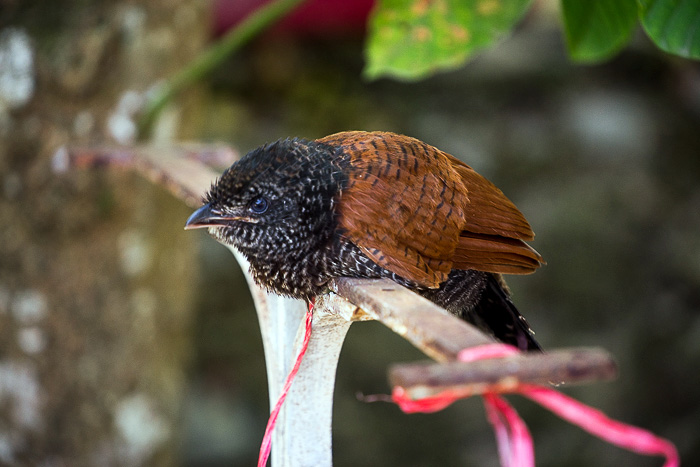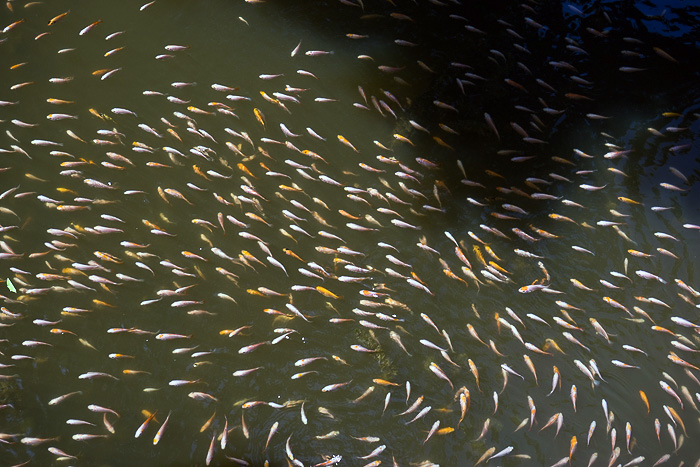 More Tomb of Khải Định Photos: