Just across the Thu Bồn River river from Hoi An, Cam Kim is an island known for its traditional crafts and quiet way of life. We spent a morning biking around the island, enjoying the escape from Hoi An's crowds.
After crossing the bridge which connects Cam Kim to the mainland, we headed toward the west into the village of Triêm Tây. A few cafes were set up along the riverfront, each clamoring for our business, but we'd already had breakfast. Too bad, these cafes looked cute, although they were way too big for the modest level of visitors they must receive. We almost wanted to order a second breakfast, just to throw some business their way.
Triêm Tây has no spectacular sights, but we enjoyed it all the same. Here was a classic Vietnamese village, with a small community center, a temple which we're pretty sure was also a house, and curious neighbors staring at us as we biked by. We found a communal garden, where a bunch of locals were hard at work, and hunted in vain for an "ancient well" that appeared on the village map.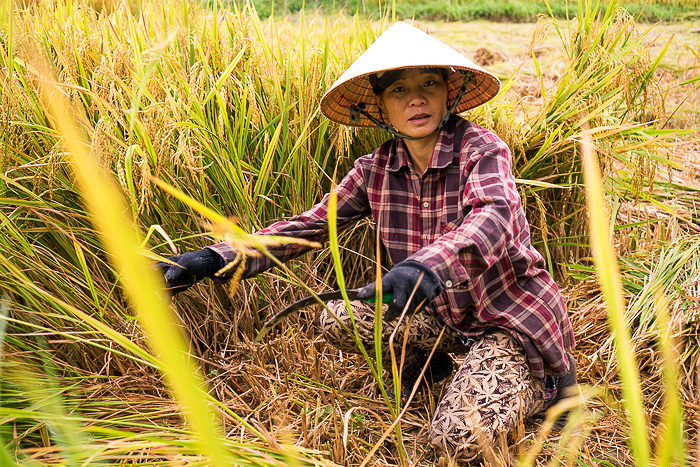 We now cut toward the east, passing a field of women harvesting rice. They didn't seem to mind our picture-taking, so we approached to watch how they threshed the rice. It seemed amazing that such a classic rural Vietnamese scene could be found so close to Hoi An.
Eventually, the road brought us to the craft village for which Cam Kim is most well-known, where a legion of men and women spend their days carving wooden sculptures. I watched one guy use his feet to spin a half-completed Buddha, holding his knife between his toes, while he chiseled with his hands. This village was much more tourist-oriented than the rest of the island had been, but it wasn't bad. They only get a 6 on the Pushiness-Scale, and the crafts they were hawking were actually interesting and well-made.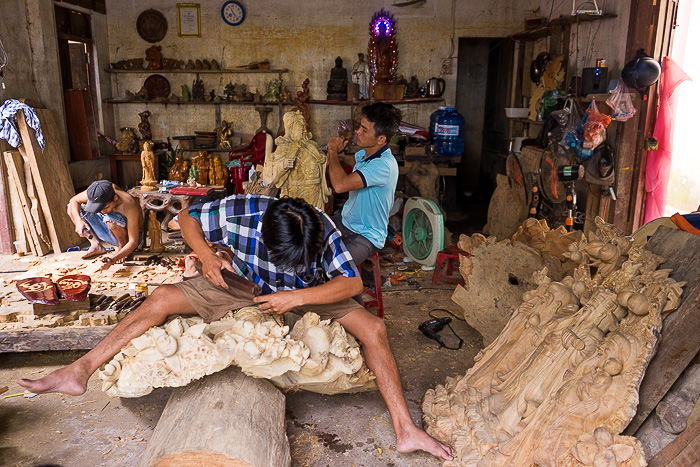 Cam Kim is really close to the city, within walking distance, so we were amazed by how undiscovered it felt. If you have an extra day in Hoi An, and want to experience life in a traditional village, excursions don't get much easier than this. Rent a bicycle and plan for about three or four hours; that's more than enough time to see everything at the relaxed pace which the island seems to demand.
–We loved staying at this hotel in Hoi An