Backstage at a Water Puppet Show
Our trip to Ha Long Bay included a Water Puppet performance on the way back to Hanoi. Jürgen and I had already seen a show while in Saigon, so we asked if we might be allowed backstage to see the puppeteers at work. To our surprise, they agreed.
While watching the show in Saigon at the Golden Dragon theater, we had wondered about the mechanics of water puppetry. The basic concept was simple enough: puppets attached to long bamboo poles, manipulated from behind a screen by a group of men and women. But it seemed impossible that they'd be able to make the puppets dance, spin and jump in such perfect synchronization. So we couldn't wait to see them in action.
As it turns out, and as you can see in our video, there's no great secret — these guys are just highly proficient at their job, and use clever tools to create their illusions. More than the poles being pushed about, and the strings being pulled, the biggest trick seems to be the crew's highly synchronized organization. There's not much room backstage, and they're all standing in waist-high water, so retrieving and storing the right puppets is almost an art form in itself!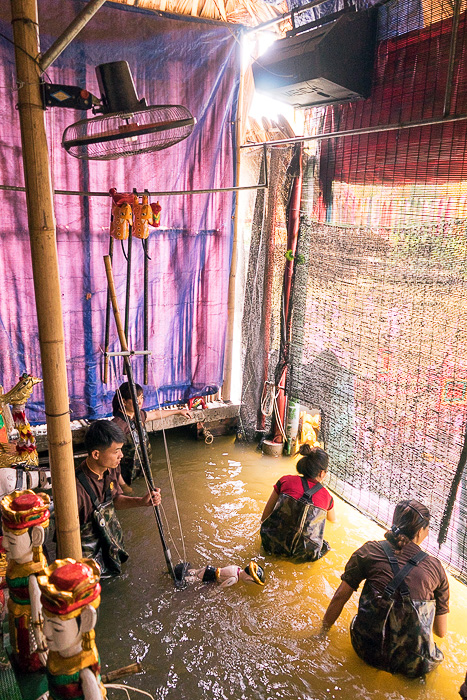 This was an unexpected way to end our trip to Ha Long Bay. The puppeteers were definitely perplexed by our presence in their zone, although they didn't seem annoyed. Still, space was tight and I made my exit after a few minutes, leaving Jürgen alone to continue taking photos. I don't think they normally allow spectators backstage, and probably only agreed because of our blog… but if you want to see it, too, I suppose it can't hurt to ask!
–Buy Vietnamese Water Puppets Here
Water Puppet Photos and a Video