Hanoi For 91 Days: E-Book Travel Guide
After having spent three months in Saigon, Jürgen and I got on the road to the north. For the next 91 days, we'd travel slowly toward Hanoi. The first month was spent in the fascinating middle regions of Vietnam. During the second month, we tried to survive the chaotic capital city. And we explored the unbelievable nature of the north during the third month. We've now collected our experiences in Hanoi and North Vietnam into an e-book travel guide, with all of our articles and over 280 full-color photographs, in one handy, portable edition.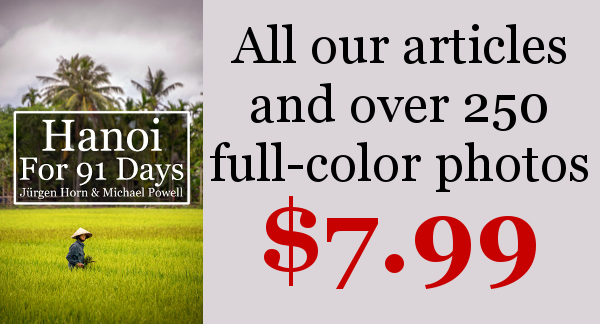 This e-book is perfect for your Kindle, Nook or any other e-reader. With alphabetical and categorical indexes, and even an index of all the great food we tried, this portable edition of our blog is perfect for when you're out and about in the city. We're sure that our anecdotes, advice and photos can help inspire your own trip to Vietnam.
For just a few bucks, you can download your own copy of the e-book for use on your e-reader or computer. You can order it from Amazon, or directly through us. MOBI, PDF and EPUB versions are available. If you'd like, take a look at some sample pages from the PDF.